The term "luxury adventure" is not an oxymoron onboard the Aria Amazon riverboat which combines stylish suites, wildlife-filled guided day trips, and world-class food for travelers in Iquitos, Peru who want to explore the beauty, culture, and nature of the Amazon region in comfort. Here are highlights from our 4-night Amazon Explorer itinerary on the Aria Amazon riverboat.
Amazon beauty
From Iquitos, we headed up the Amazon River and soon entered the Ucalayi River which is where most of our Aria Amazon journey took place (itineraries are often modified slightly to account for water levels and other environmental factors).
Morning and afternoon excursions off the wide and meandering Ucalayi took us along smaller tributaries, including the Dorado River and the Purinawa Canal, where we felt much closer to the riverbanks and, therefore, much closer to the jungle and wildlife. Our route also took us through parts of the Pacaya-Samiria National Reserve which protects 8,000 square miles (920,800 square km) of jungle.
Amazon wildlife
During our first morning excursion from the main boat, we saw dozens of blue and yellow macaws in trees, in the air, they seemed to be everywhere.
Bird spottings remained plentiful throughout the trip including black-collared hawks, a  ringed woodpecker, a massive jabiru stork, a lanky cocoi heron, and a bunch of horned screamers (yes, that's their real name).
We also saw sloths, squirrel monkeys, and some of the area's gray river dolphins and pink river dolphins. During an evening outing, we got very close to an anaconda after guides spotted it curled up under a pile of wood on the riverbank. Later that evening guides also spotted spectacled caimans as the sun disappeared.
During a trip to Clavero oxbow lake, we saw more of the famous pink dolphins (they really are pinkish) and had the chance to do some kayaking and swimming. The activity felt good after so much sitting on the Aria and in the excursion skiffs.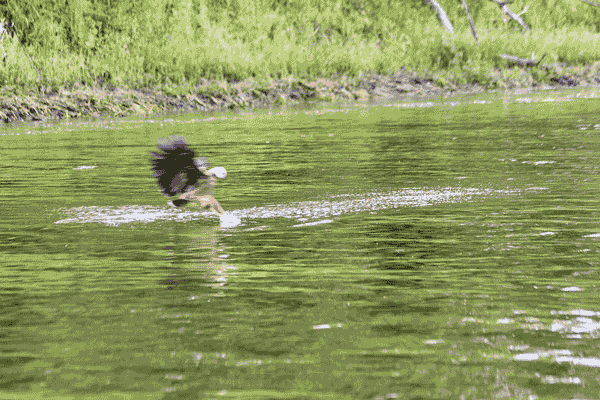 During one excursion, guides offered up a tasty piranha and a black-collared hawk dutifully swooped out of a riverbank tree to claim it. See the action in our gif, above.
As guides and guests talked during a sunset cocktail break on the skiffs before returning to the Aria, the guides told us that they've seen jaguars a few times and an enormous and rare harpy eagle was recently seen, but that takes more luck than we had.
Daily excursions are done in spacious, stable, skiffs with comfortable seats and a maximum of eight guests. Each skiff has cleaner 4-stroke engines, all guides have binoculars, and the lifevests onboard are designed to be slimmer, cooler, and more comfortable than the more common bulkier versions.
Amazon communities
On the final day of our trip, we visited a village and this chance to see a bit of Amazon life was enhanced by the fact that Juan (the head guide) was born in the village. That personal connection took a bit of the "cultural show" tinge off of the experience as Juan reconnected with friends and family he hadn't seen since his last visit a few months earlier.
Some of our fellow passengers took the opportunity to deliver practical supplies they'd brought with them including school items, clothing, and toiletries. To ensure that this passenger generosity benefits as many Amazon communities as possible, cruises take guests to different villages in the area, not just the same one over and over.
Thoughtful touches on the Aria Amazon
Every guest receives a refillable water bottle and insect repellent and sunscreen are also provided (but bring your own if you have favorite brands). Personal cubbies are available in the un-air-conditioned hallway so guests can store lenses, cameras, and binoculars there to avoid fogging which would occur if you took those electronics from the hot and humid outside air into the air-conditioned boat. Cold towels were always at the ready after each sweaty excursion as well, and USB charging outlets on the boat were another nice touch.
Luxurious touches on the Aria Amazon
The Aria Amazon had 24 staff members for a maximum of 36 guests and that ratio enables very polished service. And that's not where the luxurious touches end.
The stylish and roomy suites are much more like boutique hotel rooms than cabins on a boat thanks to real wood furniture, leather upholstery, natural tones (beige, white, black, gone, charcoal), great lighting, and excellent bedding.
Our favorite aspect of the suites was the wall of windows that brought in the view.
The Aria Amazon also has a small glassed-in workout space with a treadmill and a stationary bike, a hot tub that's a cold tub (think of it as a bubbly plunge pool) which is perfect in the hot and sticky Amazon climate, a chic boutique, and plenty of indoor and outdoor sitting areas to relax in.
One of the most remarkable elements of the Aria Amazon (and all of the boats operated by the Aqua Expeditions parent company) is the food.
The menus and recipes on all of the vessels were created by Peruvian chef Pedro Miguel Schiaffino. He's spent years taking inspiration from Amazonian ingredients and technique (some call him the "jungle chef") and his Lima restaurant, Malabar, is an elegant interpretation of that inspiration which is how it earned a spot at #48 on the 2019 list of Latin America's 50 Best Restaurants. Chef Schiaffino won the organization's Icon Award in that same year.
Breakfast and lunch are served as elegant buffets with a very wide range of options including jungle fruits and a delicious local style of smoked and seasoned pork (pork is a staple in much of northern Peru). Dinner is a tasting menu during which you can count on creative and delicious options like ginger flower risotto and paiche river fish all served with regional beer and wines.
Travel tip: if you're really into food, consider booking one of the special cruises hosted by Chef Schiaffino.
See the beauty of the Amazon from above in our drone video, below, which we shot during our trip aboard the Aria Amazon.
Best time to book an Amazon River adventure
There are two distinct seasons in the Amazon in northern Peru: low water months and high water months. With a water level change of up to 23 feet (7 meters), the differences can be profound.
During high water conditions (December through May) navigating the waterways is easier and temperatures can be around 10 degrees cooler (in the 80s instead of in the 90s). Wildlife spotting during high water conditions can be helped by the fact that the main boat and day trip skiffs can access more distant and remote areas of the jungle. During elevated water levels, the boats are also traveling higher on the water which can give a better view into the canopy where birds, sloths, and monkeys live. On the downside, these months generally have more mosquitos.
Low water season (June through November) is hotter and some waterway explorations may not be possible or may need to be completed on foot if water levels are too low for the boats to pass. Low water conditions can mean wildlife is more concentrated (and easier to see) around sources of water and fishing for piranha is better since there are more fish in each dwindling pond or lake. We were there during low water season and we saw plenty of wildlife and did plenty of sweating during excursions (though the boat and our cabin were almost too well air-conditioned).
Rain is possible during any month but it rarely lasts more than an hour or two. Rain only impacted one of our excursions. Humidity is always high.
Looking for a more affordable riverboat adventure through the Amazon region in northern Peru? Here's our post about our 4-day Amazon river ferry journey from Iquitos to Yurimaguas in a hammock. And plan your time before and after your river adventure with our Iquitos city travel guide. And use our post about 9 Great Big Amazon Travel Myths to help you plan your adventure.
Aqua Expeditions hosted us so that we could report about the 4-night Amazon Explorer itinerary on the Aria Amazon