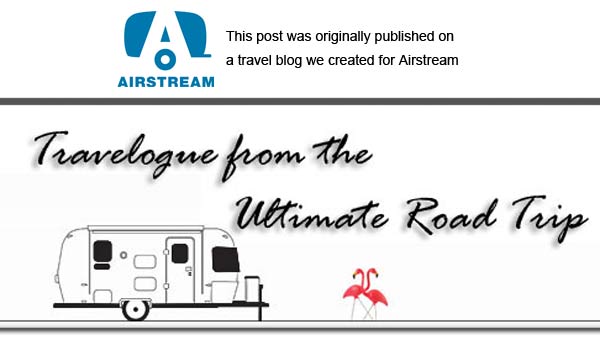 Don't get us wrong. We've pitched a tent in plenty of places from the Himalayas to Baja. But when we arrived at the famed Bonneville Salt Flats in Utah we practically kiss our Airstream.
A sea of white salt that hosts world-famous land speed trials (go rent the movie The Fastest Indian), the flats are open to campers free of charge with only one catch: you literally have to set up camp on the salt, something that simply wouldn't be possible in a tent. Us? We just towed our Airstream Safari SE out onto the flats until we felt sufficiently in the middle of nowhere, put it in park, and called it home. Flexibility like that is probably our favorite thing about having the Airstream.
Surrounded by white, it looked like we were on snow (though the 100 degree heat reminded us otherwise) and the damp, sticky salt even kicked up off the tires like snow leaving splatters of the stuff everywhere. The place is totally silent and totally black and white: white for the salt and black for the color of the surrounding hills. However, as darkness fell, we were startled by a popping noise breaking the silence and when we look out the window of our Safari we saw fireworks shooting off above nearby Wendover. Just one more surreal sight in a totally surreal place.