It's so quiet at El Silencio Lodge & Spa that turning on a bathroom tap or closing a door seem like rude intrusions. That's what happens when you create a tiny retreat (just 16 suites) on a 500 acre chunk of land. Of those 500 acres only two acres have been impacted in order to develop the lodge. The rest is protected as a private nature preserve.
As a child, El Silencio owner Karin Zurcher used to visit this chunk of land when it was still a cattle farm. Now she owns it and is committed to letting the jungle reclaim as much of the land as possible. Karin is also committed to making the lodge as low impact as possible—values shared by Punta Islita, the lodge's sister hotel on the beach.
El Silencio is fed by natural spring water which is further purified using UV light eliminating the need for bottled drinking water. An organic garden, so meticulously kept that it looked like Martha Stewart may have recently passed through, supplies the kitchen with vegetables and herbs. A nearby trout pond supplies fresh fish caught by staff using lines cast by hand.
No clearing or leveling was done to build El Silencio's 16 identical stand-along bungalows and all of them are built on stilts to decrease their footprints. All waste water is treated and re-used. All organic waste is composted and everything else is sorted for recycling. High efficiency lighting is used throughout the lodge and 95% of the staff live locally which reduces commuting and helps neighboring communities benefit economically and socially from your visit.
At 6,000 feet in the rain forest, most days start off crystal clear and sunny but clouds begin to move in by noon. By early afternoon the clouds are practically on the ground. This is a daily routine.  But the weather at El Silencio, which made the Conde Nast Traveler Gold List for 2012, is perfect as it encourages morning activity and afternoon relaxation or yoga (available by appointment and an extra charge) on a large wooden open-air platform in the jungle spa across the river from the main lodge buildings.
At check in you are assigned an Eco Concierge who is in charge of organizing on property (hiking, yoga, spa treatments) and off property (zip lining, volcano tours, and more) activities during your stay. Free guided hikes are offered at 9 am daily or you can head out on your own to explore the lodge's six miles of trails (some trails were closed due to mud slides when I was there).
Moderately challenging paths took me past three spectacular waterfalls, across swing bridges, and through deep green jungle. During the rainy (or so-called "green") season (May to November in this part of the country) guests will be happy about El Silencio's free shoe "de-gooping." In the dry season the trails are goop-free.
The bungalows are surprisingly chic with a muted brown, tan and white color scheme and lots of rich wood. The large, light-filled bathrooms feature marble floors and an impressive 4" thick 6' long single slab of marble around the sink. Lamps bases are made from wonderful chunks of weather-beaten wood.
Spacious wood decks have comfy rockers on them and every bungalow has an outdoor Jacuzzi which is filled with spring water which is not treated with chlorine. The Jacuzzis take two hours to heat up, however, which isn't very eco. To that end, the owners spent nearly two years getting permits to build a small scale hydroelectric facility on their land. The permits have just come through and work should begin this year. Karin believes the hydro project will produce enough energy to power the lodge (and all those Jacuzzis) with enough left over to supply the local community as well.
Nearly 75% of the wall space in the bungalows is taken up with windows. This allows you to fully appreciate the views of the surrounding forest and ever changing weather, but it also makes it very hard to efficiently heat the rooms.  Temperatures take a nosedive at night and the bungalows are, surprisingly, not very well insulated. I could see straight through spaces between some of the floorboards in my room and the walls actually conducted the cold.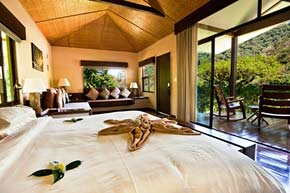 The retreat's website still touts them, but management has removed the gas fireplaces that were originally installed in each bungalow. They were too complicated to use and during the coldest weather the gas and oxygen separated in the tanks rendering the fireplaces useless. The fireplaces were replaced with electric space heaters which mostly warm your room. Indulgent bedding does the rest with the help of hot water bottles placed between your sheets at turn down.
I was unaware of this touch and yelped when I climbed into bed and my foot touched the warm lump in its fluffy sleeve, thinking it was a critter. Though the daytime sunlight quickly raises the temperature in the suites, heaters must be turned on as soon as the sun goes down to stave off the chill. I was excited about the locally made slippers in my room but the flat envelope of fabric with a rubberized sole proved tricky to walk in (you have to shuffle along like a geisha to keep them on your feet) and absolutely not warm enough.
Though El Silencio's owners have worked long and hard to create an environment that encourages guests to unplug and drop out, if you must stay connected Wi-Fi is available in the lodge. If having an in-room connection is important to you ask for a bungalow near the main lodge where the routers are located and you may pick up a signal—I did.
The main lodge is located on the Toro River, by far the loudest thing at El Silencio. The high-ceilinged wood and stone building has a small dining room, a homey bar and comfy chairs for reading or jungle gazing—complete with plush blankets and a roaring fireplace.
Rates at El Silencio include three meals a day from a menu that leans toward the healthy side with options like grilled vegetables as a main course or a tofu scramble at breakfast all made with ingredients from the on-site organic greenhouse or local farms within 20 miles of the lodge.
When I was at El Silencio dinner service was far too rapid, however, and waiters suffered a bit from not listening disease. Though I answered yes when asked if I wanted fresh pepper it never arrived, for example, and breakfast coffee cups went unfilled for far too long. However, when I met with Karin she confessed that a change in wait staff was in the works before I even mentioned my concerns, so service should be back up to par by the time you visit.
Free in-room "healthy snacks" are also included in room rates, though peanuts and fried plantains were less healthy than I'd hoped.
Ask about helping out with El Silencio's Bring Back the Quetzal project. Started four years ago, the project has planted hundreds of trees favored by the flamboyant quetzal bird. It's exactly the sort of innovative, pro-active project that makes El Silencio special among the hordes of accommodations in Costa Rica which claim to be green.
El Silencio Lodge & Spa
Bajos del Toro
Costa Rica
Phone: +506 2231-6122 or + 506 2476-0303
www.elsilenciolodge.com
Rates from $420 double occupancy including all meals, in room snacks and Eco Concierge services
Our review of this lodge was originally published by iTraveliShop