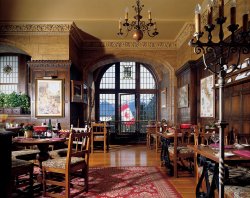 The irony hits me midway through my dreamy soak in a Hungarian Mineral Pool: the Fairmont Banff Springs  is located in the midst of some of the most beautiful outdoor scenery in the world, yet the resort is doing it's level best to keep me inside. And it's working. The most irresistible tool in the hotel's arsenal is the Willow Stream Spa. After a 2.3 million dollar facelift in the Fall of 2003, the spa was named 2004 "Best Spa in Canada" by the readers of  Luxury Spa Finder Magazine. Today the 38,000 square foot, completely refurbished facility is a watery wonderland complete with that addictive Hungarian Mineral Pool, which is kept at 98.6 degrees and is full of minerals that are said to naturally rejuvenate everything from skin to joints.
The water rooms also offer a series of three waterfall-fed plunge treatment pools that range from cool to warm to hot. Jacuzzis, steam rooms and saunas are also available including one Jacuzzi on a spacious patio just beyond the Hungarian Mineral Pool for those of us craving a mountain view that doesn't mean interrupting our  indulgence. Add on a full menu of body, skin, hair and nail treatments as well as a well-stocked gym and range of instructor-lead fitness classes and you've got days of indoor bliss.
The dramatic architecture of the resort itself, which was modeled on an actual Scottish castle (as you drive up you almost expect to hear bag pipers herald your arrival), is also stiff competition for the natural scenery. Opened in 1888 as a 250 room property, the hotel has undergone numerous additions over the years and, today, it rambles eclectically. Even the hotel staff refers to the hotel as "labyrinth-like" and those of you not equipped with an internal GPS may have trouble finding your room for the few first days.
With a current total of 770 rooms, the Fairmont Banff Springs offers a mind-boggling array of accommodation types. Some standard rooms can be on the small side—as little at 160 square feet. But the hotel also offers two-bedroom suites that deliver over 600 square feet of space and some of those suites (including the Nicholas de Grand Maison Suite) even come equipped with Bushnell telescopes for the ultimate in indoor nature watching.
My room in the Tudor Wing was larger than many, but offered only a partial view and came with a fireplace that consisted of a light bulb positioned behind  a jumble of translucent plastic logs. The thing contributed neither heat nor charm, but I have been assured that this feature will likely be removed as part of a planned renovation of rooms in this wing. If you have your heart set on a room that has all the architectural beauty and comfort the Fairmont Banff Springs has to offer and postcard perfect views, call the hotel to make your reservation and be sure you have been booked into a room in the Original Building with a River View.
When you do finally manage to venture out of the hotel, nearby Banff National Park, which is actually a UNESCO World Heritage site, offers access to the dramatic and seemingly endless Canadian Rockies where the views, animals and hiking options never disappoint. Even closer to the hotel are the Banff Upper Hot Springs, but if you've already had your share of soaking in the hotel spa head for the Banff Gondola which will whisk you up a vertiginous incline in your own glass bubble for panoramic views of the peaks and valleys below—and amazing aerial view of the Fairmont Banff Springs.
Fairmont Banff Springs
405 Spray Avenue
Banff, Alberta, Canada T1L 1J4
Phone: (403) 762-2211
Our review of this hotel was originally published by iTraveliShop
Visit our Travel Features page and our Hotel & Restaurant Reviews page to see all of our freelance travel stories.