Okay, maybe he didn't literally get a new truck, but this year's birthday was way better than last year when Eric got two cracked ribs for his birthday. Yeah, worst birthday ever. This year, in Managua, Nicaragua, the only horses involved were under the hood and that worked out much, much better.
Happy birthday from our product partners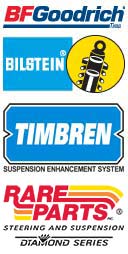 For a long time now we've been struggling with steering problems. The rough roads and long miles have taken their toll. The addition of souped-up tie-rods from new product partner Rare Parts helped a lot.
Then we worked with some of our long-standing product partners to get much-needed replacement parts to us here in Nicaragua. Not an easy task as you can imagine. However, we finally got our BF Goodrich tires, Bilstein shock absorbers and Timbren suspension enhancers into the country.
Happy birthday from the customs office
The shocks were being held by Nicaraguan customs officials and Eric began the process of clearing them early in the morning, expecting a day-long ordeal ending in a big, expensive importation duty. He was wrong on both counts.
Sure he had to stand in line for a few hours and fill out forms and wait around while 300 tubes of lipstick in the huge box shipped in by a lady in front of him were inspected followed by the dude with a million pairs of pants in a box. Still, in less than four hours Eric walked out of the customs hall with the shocks and no importation duty at all. None. Nothing. Nada.
Apparently, non-citizens are allowed to import up to US$500 worth of goods into Nicaragua without paying duties, though there was some dispute (which ultimately went in our favor) about whether or not this rule applies to auto parts. Had the decision not gone in our favor we could have been looking at more than US$100 in import duties.
Happy birthday from the best repair shop in the region
With shocks in hand Eric drove to Axis Distribuidores where owner Bernardo Ortega and his knowledgeable and hard-working staff were holding six brand new BF Goodrich All-Terrain tires for us.
It took about 43 seconds for Eric to realize that this is where we should have been bringing the truck all along instead of fooling around with a regional chain called (appropriately) Auto Pits. Unlike the Auto Pits in Costa Rica, which performed shoddy work with inappropriate parts which rendered the truck undriveable, the team at Axis only deals in quality parts and they know what they're doing with a wrench and a whole bunch of other tools we don't even know the names of.
As a bonus, Bernardo is an awesome guy and a real 4×4 and performance after market enthusiast. He was also really into our little road trip so that was fun too. By sunset, Eric was driving back to Leon with a big birthday smile on his face. We are very, very grateful to everyone who made this terrific birthday possible and our "new" truck is pretty happy too.
Shipping tip
If you ever need to have something shipped to you in Nicaragua we can recommend the services of an international cargo company called Cargo 22-24. Just send your items, small or large, to their office in Miami and they will arrive in Managua within a few business days. We paid US$1.50 per pound to have Cargo 22-24 ship us our shock absorbers which arrived three days later. They even helped with customs formalities.