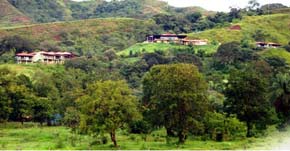 Ten years ago Gina Cronin fled the weather in Cleveland, Ohio in search of someplace where she'd never be cold again. She found it on a former cattle ranch near the miniscule town of Caldera, less than half an hour from the birding and coffee mecca of Boquete, Panama. Since she was nowhere near ready to retire (and still isn't) she essentially "bought herself a job" as a hotelier.  Seven years ago she opened Rancho de Caldera and Madre Tierra restaurant with the goal of creating "a siesta for your soul." She has succeeded.
Nine luxury suites have been built in three banks of three rooms each. Each bank includes a mega-room in the center with a truly full kitchen, a Murphy bed, and an ample dining/living room. The two smaller suites that bookend that larger rooms have kitchenettes including a mini-fridge, electric kettle, microwave, toaster, insulated French Press coffee maker, and a coffee grinder. All rooms can be booked separately or they can be combined with the center room to make spacious two or three suite family spreads.
You will admire the craftsmanship throughout, particularly the woodwork and wooden furniture. Though Gina brought in a master woodworker to help her build her hotel, he was also charged with teaching some locals the skills they need to become artisans themselves. Now there's a small club of local men who possess in-demand skills and produce work you won't believe. If the desk chair in my room would have fit into my luggage I might have swiped it.
All suites have floor-to-ceiling windows and huge furnished porches with views of the property and the mountains beyond it. Some suites feature something that seemed odd but turned out to be awesome: a massage chair. They're not attractive, but they are effective and I spent more time than I care to admit sitting in mine enjoying the massage and the view.
Delicate, one-of-a-kind Indonesian cotton bedding in yummy pastels with floral cut-outs and appliquéd designs provided the inspiration for each suite's décor with each coverlet dictating everything from paint colors to flooring to the shape of the sinks.
All kitchens are thoughtfully stocked with local organic coffee beans (this is a coffee growing region after all), fresh fruit, yogurt, butter, jam, cinnamon rolls from Sugar & Spice bakery in Boquete, and English muffins. As satisfying as breakfast on your patio is, you will want to save room for more.
Seattle native Craig Miller is considered to be one of the best chefs in Panama. The author of the Moon guidebook to Panama went so far as to say that chefs in Panama City must be breathing a sigh of relief that Chef Miller hasn't opened up shop on their home turf in the capital.
Chef Miller has had no formal training; however, he has worked at the acclaimed Willows Inn on Lummi Island where he was, apparently, paying attention. My dinner at Madre Tierra, which was named after a restaurant Chef Miller knew in Ecuador where he spent two years in the Peace Corp., started (as all my meals should) with Spanish cava as light and delightful as any I've had.
Rich, salty duck liver pate on a toasted square of pumpernickel bread from Sugar & Spice bakery came next, followed by carrot and fennel seed soup dashed with a balsamic reduction and served in a mini coffee cup for sipping with the fennel adding sophisticated spice to the sweetness of the carrot.
Organic arugula from a nearby farm was served over pan-seared organic duck from Boquete along with crumbled mild goat cheese (more like ricotta) and small morsels of stewed figs that were rich without being too sweet or overpowering. Petit filet mignon came on herbed polenta with delicate sautéed kale. Each individual ingredient would have been delicious on its own but the combo was out of this world.  Dessert was made from dozens of layers of paper-thin shaved apple baked down until they nearly become a gummy candy, then topped with a small scoop of caramel ice cream that actually tasted of caramel, not just sugar. A super-crispy cookie added texture.
Gina has 10 horses available for rides, a beautifully tiled infinity-edge pool with semi-submerged loungers and an umbrella dotted patio, and more great views. Gina also recently unveiled a spacious, roomy yoga pavilion topped by an elegant dome.
And to think all of this happens off the grid. Gina uses a vast solar and hydroelectric system to generate 80% and 100% of Rancho de Caldera's power needs (generators are used as a last resort). Efficient fridges are powered by their own dedicated solar cell. Water comes from a 140' well and is purified using an infrared system. It all adds up to Green Globe certification for this siesta for your soul.
Rancho de Caldera
Caldera, Panama
Toll free from the US and Canada 877-810-0898
www.ranchodecaldera.com
Rates from: $150 double occupancy
Our review of this hotel was originally published by iTraveliShop