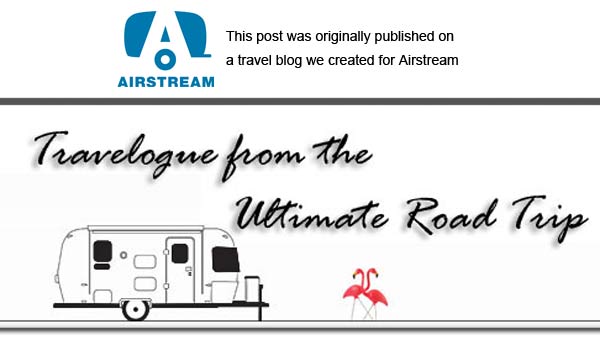 It's been a long time since we've eaten anywhere outside our Airstream—something that's made us richer and healthier. However, we can't pass up a gas-station eatery that gets rave reviews from gourmands. Just outside Yosemite National Park, near Lee Vining, California, we pulled into a Mobil station and belly up to the Whoa Nellie Deli where white-capped chefs have replaced microwave burritos with gourmet meals including fish tacos and elk steaks.
The place was packed and the food smelled great, but the $13-$27 price tags were a bit too rich for our blood, so we drove above the service station to a lookout point over Mono Lake and made a sandwich in our Safari SE.
We weren't there to eat, anyway, since this section of the Eastern Sierra Nevada range is full of things to see and do. First, we headed down to Mono Lake Tufa State Natural Reserve, the incredible inland salt lake (it's 2.5 times saltier than the ocean) that for years has been shrinking as an alarming series of previous lake level markers illustrated. The Tufa formations, big knobby spires of calcium carbonate (basically, big piles of Alka Seltzer), that have been deposited at various intervals where the shoreline used to lap look totally man-made.
Our next stop was Bodie State Historic Park, an incredibly intact former gold mining town. Still-furnished homes, stores with fully-stocked shelves, and vintage automobiles parked on the street as if ready to head out on a Sunday drive make it feel as if the residents just up and walked away one day—which is essentially what happened when the gold ran out.
Still nursing stiff legs and sore muscles from our recent hike up Half Dome in Yosemite National Park, we made time to soak out the kinks at the Travertine Hot Springs near Bridgeport. The natural spring is located down a dirt road (if we told you any more we'd have to kill you) and locals have done a fantastic job of creating a welcoming, comfortable, clean, and free outdoor soaking pool without intruding on the beautiful natural setting. Between the hot water and the relaxing views of the Sierras, our muscles felt much better after an hour or so of soaking.
This part of the Sierras is also home to Devil's Postpile National Monument. It doesn't quite deliver a stunning monolith like Devil's Tower National Monument, which we camped at back in July of 2006 in the very beginning of our Trans-Americas Journey, but the short steep trail to the top of the 60 foot (18 meter) tall columnar basalt pillar formations gave us a unique view of these hexagonal wonders which, from above, interlock perfectly like parquet flooring.
Like many small parks and preserved areas we've visited, the US Forest Service run Ancient Bristlecone Pine Forest in the Inyo National Forest seems to be bypassed by far too many people. The forest here boasts large groves of beautifully twisted bristlecone pine trees that grow slow, strong, and long—they can live to more than 4,000 years. The single oldest known living thing on earth, the 4,700 plus year old Methuselah tree, can be reached via a 4 mile (6.5 km) trail right from the visitor center.
You can also drive 12 miles (19 km) beyond the visitor center out a dirt road to reach the Patriarch Grove where young bristlecones (a mere 1,000-2,000 years old) flourish at 11,000 feet (3,352 meters) in the shadow of White Mountain. The landscape is strangely lunar and the twisted, tortured, slow-growing trees look more like wind-swept sculptures than something living. However, the rocky, arid soil here is dotted with tiny up and coming bristlecone seedlings which we hope will ensure a future for these odd trees.