It could be that Rodrigo Carazo, President of Costa Rica from 1978 to 1982, was thinking of his legacy when he decided to build a hotel using traditional architectural techniques and protect more than 2,000 hectares of cloud forest around it, but that hardly matters. What matters is that the President's vision became a reality and that vision is now known as Villa Blanca Cloud Forest Hotel & Nature Reserve.
President Carazo and his wife, first lady Estrella Zeledon de Carazo, opened the property as a hotel in 1991. Jim Damalas, who was among the very first wave of expats in Costa Rica, bought it almost two decades ago and set about restoring it with the ambitious goals of keeping its authenticity while adding modern amenities and becoming sustainable.
The traditional design of the structures was not changed. In fact, Jim even worked with a local paint manufacturer to duplicate the exact shade of blue used on the exteriors. Jim made his changes inside, adding all mod cons including fireplaces, large showers, and even jetted tubs in the roomier deluxe casitas. Every casita is cozy and romantic with lots of windows through which to watch the weather and the wildlife.
There's Wi-Fi throughout the hotel but no TVs (Jim really wants you to plug into nature, not the Nature Channel). However, calling on his years in TV production, Jim has built a THX screening room that would make William Randolph Hearst proud: comfy chairs, big screen, great sound, more than 200 movies to choose from and staff will even deliver freshly made popcorn.
To achieve his green and sustainable goals, Jim used roof tiles that look traditional but are made from recycled plastic. All waste is recycled and biodegradable cleaning products are used throughout. Jim has also hired more than 90% of his staff from the local area and many employees have been with him since he bought the place.  Some guests have been with him nearly that long as well, coming back to Villa Blanca year after year.
These same principles of sustainability guide Jim's work at his first hotel, the iconic Si Como No on the coast near Manuel Antonio National Park. Both properties have been awarded 5 Green Leaves, the highest sustainability rating given by the Costa Rican government. Villa Blanca has held this distinction since 1997 when it was the first Costa Rican hotel to achieve 5 Green Leaves in 10 years.
Located on 75 acres surrounded by the Los Angeles Private Cloud Forest Biological Reserve, Villa Blanca also offers guests three miles of lovingly groomed hiking trails through cloud forest habitat. Keep your eyes open. Naturalist staff recently spotted red-eyed tree frogs on the property proving that this species lives at much higher elevations than biologists previously believed.  More than 1,000 species of butterflies and moths are also found here and they flutter around the lodge in a kind of slow motion ballet. There's also a research center, organic greenhouse, small dairy and a tilapia farm on the property. All told, Villa Blanca Cloud Forest Hotel & Nature Reserve is the centerpiece in a 5,000 acre protected area.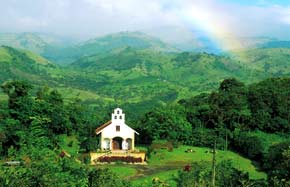 An on-site chapel, built to celebrate a wedding anniversary in the Carazo family and still available for special events and weddings, is a replica of an Italian chapel with a twist. The former first lady's sister hand painted 800 ceramic tiles with images of flora, fauna and religious icons from around Latin America and they now decorate the interior ceiling.
The Voices of Nature spa offers a full roster of treatments (60 minute massages are around $100; facials and body wraps are around $80) in one large treatment room with its own large bathroom. A second treatment room is in the works.
And you will not get bored with your meals at Villa Blanca no matter how many nights you stay. The menu at El Sendero (The Trail) restaurant is extensive and wide-ranging including international and local favorites. The restaurant also offers a more interesting than usual wine list ($25 to $115, including Babich Sauvignon Blanc) including wines from many organic and sustainable producers around the world. A generous two for one happy hour from 4-6 generally gets the evenings going in the bar and lounge area which is outfitted with Italian leather sofas, beautiful wooden furniture made in Costa Rica and two large fireplaces.
Villa Blanca Cloud Forest Hotel & Nature Reserve is a feel-good retreat that's as warm and comfortable as home in a setting that takes you far, far away.
Rates from $189 double occupancy including full breakfast
Villa Blanca Cloud Forest Hotel & Nature Reserve
San Ramon, Costa Rica
Phone: 877-256-8399
www.villablanca-costarica.com
Our review of this hotel was originally published by iTraveliShop