When you check into La Mansion de los Suenos, you're not just greeted by the experienced and eager staff. You're also welcomed by a dozen faces brought to life in the colorful portraits of local painter Jose Silva which cover the walls in the lovely reception area off the first of the restored 16th century hacienda's three blood-pressure-lowering patios or courtyards. The tranquility, art collection, history, decor and level of service at La Mansion de los Suenos come to you courtesy of Priscilla Madsen, the owner and host.
You could also call her the mansion's savior. Only three families (including Priscilla) have owned the hacienda since it was built in the late 1600s. Priscilla bought and began meticulously restoring the property in 1998 as a way of fulfilling her dream (or sueno) of running a boutique hotel in Pátzcuaro, in the central part of the Mexican state of Michoacán –a place the San Diego native first visited a few years earlier and felt was as close to a soul mate a­s a town could ever be.
Vivacious, knowledgeable, passionate and unstoppable Priscilla is as much a reason to book a stay at La Mansion de los Suenos as the 12 rooms (10 junior suites and two master suites) she has crafted, each individually decorated featuring regional antiques, gorgeous tile and metal work, ultra-modern bathrooms (many with skylights) and Wi-Fi. Most also have fireplaces which the staff seem able to light into warming blazes within seconds. Two rooms even have petite sitting and reading lofts.
Rooms 1 and 2 were originally built without windows , but Priscilla is working with local restoration officials to get permission to add them, and rooms 1, 2 and 3 can be a bit noisy as they are located directly off the first, and busiest, patio. If quiet is what you're after, book one of the suites or rooms off the perfectly serene third patio at the back of the hotel.
Even more impressive than the modern comfort and historic style of the place are the amazing number of original architectural details that Priscilla and her team of restoration workers were able to save. These include two foot thick adobe walls, high beamed ceilings and the French iron work (railings, fountains, etc) that was added to the Hacienda during its first (and only) renovation back in 1861.
The three open-air central patios at La Mansion de los Suenos were as important to Priscilla as the rooms (and will be to you, too). After restoring their original landscaping and structure she embellished them with murals, ample chairs and tables and live music on the weekends turning them into irresistible gathering places. Though you'd never know it now, the third patio was originally the stable and barnyard area (as is the case with most colonial haciendas) until Priscilla got her hands on it and turned it into a lush and peaceful garden ringed by lovely rooms (including the two enormous master suites), murals and even a secluded, almost secret Jacuzzi.
Other unexpected amenities at La Mansion de los Suenos include the lovely and intimate Priscilla's restaurant with a massive European chandelier (ask Priscilla to tell you its story), small bar and big fireplace which attracts locals as well as guests with well-prepared dishes like salmon in saffron sauce and a range of fondues.  The hotel also offers a massage room and on-site masseuse.
Though the exceptionally well-dressed beds and light-banishing wooden window shutters may tempt you to sleep all day, Pátzcuaro is a town worth getting out of bed for with not one but two leafy and daydream-inspiring squares or plazas, a languid friendly pace and a wonderful (but puzzling) lack of tourists. Those are just part of the charms that earned this city a place on the elite list of Pueblos Magicos in Mexico.
If you're a shopper (or even just a window shopper), don't miss the Museo de Artes Popular which provides a great introduction to the area's rich range of crafts (from masks to jewelry to different styles and colors of hearty pottery) produced by artisans living in small, easy to reach towns right around Pátzcuaro. While you're touring the museum, be sure to take note of the unusual flooring in two of the display rooms…yes, those are cow bones set in among the tile.
It's also more than worth taking the short and peaceful open-air boat ride across Lago de Pátzcuaro to Isla Janitzio where you can hike up and into an enormous statue of Jose Morelos. There are statues of this revolutionary hero all over Mexico and this is far from the most beautiful depiction of the man, but winding your way up the statue's narrow internal staircase into his wrist for a view over the lake is a lot of fun—plus you can then reward yourself with an ice cold michelada (a delicious mixture of beer, pepper sauce, salt and fresh lime juice that reminds me of a bit of Bloody  Mary, only more refreshing) at one of the casual and inviting cafes right by the hilltop statue or back down near the dock.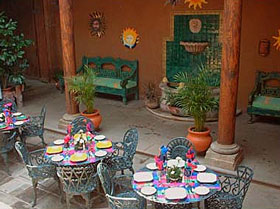 Pátzcuaro is also home to the best ice cream I've ever eaten anywhere in the world and, yes, I'm including Italy in that assessment. Sidewalk vendors around the Plaza Grande sell nearly a dozen different homemade choices using fresh, all natural ingredients to produce classic flavors as well as Mexican favorites like corn, cheese and tequila.
The pistachio was rich, nutty and pleasingly perfumey and the coffee was rich and gooey with a hint of caramel. But the winner, in my book, was the blackberry—transformed from the enormous bag of fresh berries I spied one evening into a deeply purple, deeply fruited revelation I was lucky enough to eat the following afternoon.
Perhaps the most famous reason to visit Pátzcuaro is to witness the annual Dia de los Muertos (Day of the Dead) flamboyant and joyfully remembrances of departed loved ones—a traditional celebration that is still very much alive, particularly among the Purepecha people in this region. Just be sure to book ahead as town fills up months in advance of the October event!
Priscilla is currently working on a new website for the hotel which will truly reflect the quality and uniqueness of her centrally located haven, which is part of the Mexico Boutique Hotels group. In the meantime, you'll just have to go see La Mansion de los Suenos for yourself. But a warning: It didn't take long for me to feel as if I was coming home every time I returned to my room and that made it very hard to leave.
Rates start at: US$209 including breakfast and welcome cocktail (try Priscilla's margarita)
La Mansion de los Suenos
Ibarra # 15
Col. Centro
Pátzcuaro, Michoacán
México
Our review of this boutique hotel was originally published by iTraveliShop
Visit our Travel Features page and our Hotel & Restaurant Reviews page to see all of our freelance travel stories.