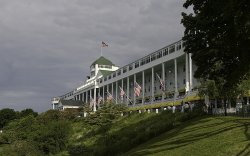 Admit it. There's something irresistible about a luxury hotel that's designated as a National Historic Landmark and situated on an island that's home to the oldest state park in the US. And so I find myself taking a 20 minute ferry ride across Lake Huron to Mackinac (pronounced Mackinaw) Island in Michigan to experience the Grand Hotel.
Opened in 1887, when rooms went for $3-$8.50, the Greek Revival-style building is one of the few remaining wooden monolith hotels (in good company with the likes of the Greenbrier Resort in Vermont and The Breakers Palm Beach). Expanded 33 times over the years, it now claims to be the world's largest summer resort (brutal weather on Mackinac Island only allows the resort to operate between May and October).
Today, the hotel–which was named on the 2006 Travel & Leisure list of 500 Top Properties–has 385 uniquely decorated rooms including 97 deluxe rooms and 52 named suites (to furnish them all, the hotel buys a steamer crate full of antiques to add to the property each year). There's also a bowling alley, an 18 hole golf course, 50 acres of manicured grounds and a meandering, secluded pool where Esther Williams filmed scenes for This Time For Keeps in 1949.
The sprawling, stark white hotel manages to feel light and airy thanks to interior designer Carleton Varney's touches throughout. A protégé of Dorothy Draper (and now president of the Dorothy Draper Company, Inc. and author of In the Pink, about Draper's iconic hotel style), Varney was hired in 1976 to "warm up the place" (rooms were all originally the same austere white as the facade) and his festive eye can be seen in every nook and cranny. He seems particularly fond of honeydew colored sofas, sky blue ceilings and raspberry tinted walls. Even the elevator doors are painted the color of papaya.
Despite the fact that the island is covered in lilac bushes (the charmingly quaint annual lilac parade was going on the morning I arrived), the hotel displays an obvious preference for geraniums which feature in everything from carpet patterns to wallpaper motifs (most of which are designed exclusively for the hotel) to the slightly overpowering scent of the products in the bathroom to the 1,400 Yours Truly geraniums planted along the hotel's famous 660' long porch. This is Varney's work again. Inspired by summers spent in New England, he chose the geranium as the official symbol of the hotel.
Cosmetic updates aside, change does not come easy to Grand Hotel, as evidenced in my room by the 12" TV (a recent nod to the times) and lack of air conditioning (something the hotel's owners are reluctant to add anywhere in the building). But any homesickness for modern amenities is more than made up for by the fact that my open windows let in a lazy breeze from the lake along with the sound of horse hooves clomping along the town's streets. Motorized vehicles were banned from the island in the 1920s and to this day everything—from tourists to UPS deliveries–is transported by horse-drawn cart, wagon or buggy (there are 500 horses on the island and only 600 year-round residents).
To further ensure that the traditions of the past live on, Grand Hotel hosts a formal high tea and enforces a strict dress code: skirts or dresses for women and jackets and ties for men after 6pm. Word to the wise: Be sure not to forget to pack a tie or you'll be stuck wearing the garish navy blue polyester loaner with pastel horses running across it that the hotel keeps on hand, just in case.
As was customary of resorts in the past, full breakfast and a five-course dinner are included in the room rate and served in a massive dining room which can seat up to 1,400.  Three menus rotate through the week and feature choices like lobster bisque, Syrah braised lamb shank, roasted eggplant lasagna and the Grand Hotel's famous Grand Pecan Ball dessert, which is ordered by more than 50,000 guests a year.
Meals are saved from feeling like well-dressed cafeteria experiences by the attentive, but never-rushed service of the hotel's dining room staff, 96% of which are brought in from resorts in Jamaica that are closed during Grand Hotel's season. I was tempted to leave a little something extra for the waiter who graciously and discreetly bent a rule and produced a Riedel wine glass for me even though they are technically reserved for guests who order far more expensive wine than I did. Then I remembered the hotel's strict no tipping rule.
Before and/or after you head to the dining room for dinner, find your way (getting lost is half the fun in this hotel) upstairs to the Cupola Bar for a cocktail or aperitif and gaze out across Lake Huron to Mackinac Bridge (the longest suspension bridge in the world until 1988) across the Straights of Mackinac and all the way to Lake Michigan beyond. It's a view that will never go out of style.
Grand Hotel
Mackinac Island, Michigan 49757
Phone: (906) 847-3331
www.grandhotel.com
Our review of this hotel was originally published by iTraveliShop
Visit our Travel Features page and our Hotel & Restaurant Reviews page to see all of our freelance travel stories.