At an Aman, perfection is expected.  However, when I got the chance to spend a whirlwind 20 hours at the newly-opened Amangiri, just two days after the much anticipated property opened its doors in Canyon Point, Utah, I found plenty of pleasing surprises as well.
As expected this newest Aman, only the second one to open in the United States along with the Amangani in Jackson Hole gets all of the usual suspects absolutely right: The place is so discreet that there are no signs. ­A gaggle of staff members emerges to greet arriving guests as warmly as if you were an old friend. The building itself is a stunning piece of design both inside and out (more on that later). Each of the 34 suites (some with a private pool and star-gazing rooftop deck) is a chicly monochromatic den of peace, indulgence and relaxation. And, of course, if a guest is asking then the answer is always "yes".
However, for me, the Amangiri's unique personality is not in the Aman level of perfection that we've come to expect but in the ways in which it differs from other Aman properties. Most dramatically, there is an incredibly openness at Amangiri. The central lobby/restaurant/library/bar area is as open as a SoHo loft imparting an immediate degree of community that's only enhanced by the room's six massive fireplaces and hundred foot long wall of windows which adds the feeling that you're hanging out with friends in the world's chicest living room.
Amangiri staff members also seem much more numerous and much more visible (maybe because additional staff were on to handle any trouble shooting necessary in the hotel's early days) than at other Aman hotels. Here things feel less as if they happen by magic at the hands of unseen fairies and more as if they are the result of stellar human service.
For example, when I sent out a silk shirt to be steamed before an impromptu tasting of Antanori wine (the wine maker just happened to be at the hotel) the garment was returned to me in perfect condition (of course) but instead of simply appearing in my room it was delivered by the woman who steamed it. This is not a complaint—just a notable divergence from the Aman's usual "how the heck did that happen?" style of virtually invisible service.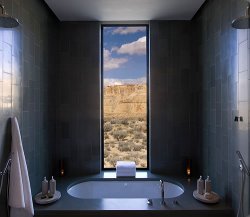 For the ultimate spa experience book a treatment in one of the five spacious black walnut-lined treatment rooms, all with private showers and bathrooms.  The couples room is entirely lit by ambient light (candles or sunlight only) and one whole wall opens up to capture the light and breezes rolling off the surrounding mesas. Thai massage is done in one of two outdoor pavilions that also give the sensation of being in the world, not in a spa.
Not surprisingly, given the area's Navajo history, the spa is sprinkled with Native American touches. What is surprising is that it all feels well-thought out, not gimmicky. Flavorful Navajo tea (made from an anti-oxidant packed plant called greenthread) is served and one of the seven full-time therapists is Navajo. She also helped write the extensive spa menu—particularly the spa's four packages or "Journey" which represent incredible value with two and a half hours of massages, facials and aromatherapy or hydrotherapy work for $300.
Amangiri, which means peaceful mountain, was inspired by a poem about the four elements—wind, water, fire and land—written by Mexican poet Octavio Paz. The poem is dramatically rendered in four stone slabs near the hotel's entrance which is open-air, features running water, has views of the dramatically sculpted  landscape and leads into the fireplace-lined common area.
The hotel offers a catalog of activities that make the most of those four elements found in abundance in Amangiri's awe-inspiring environment. You can take a hot air balloon ride right from the property for serene aerial tours over nearby Lake Powell or the Grand Canyon among other iconic local attractions. Guided and unguided hiking, horseback riding, off-road trips to slot canyons and fly fishing are also available.
The Amangiri feels so grounded in its current location that it's shocking to learn that it was originally planned for another site on the 2,000 acre property. That is until Amanresorts Adrian Zecha, walked the property and fell in love with the current location. Reportedly, it was the rock that now juts dramatically into the meandering swimming pool that did it.
There were a few small opening week missteps including in-suite throw rugs not properly secured to the floor, far too many tacky black electrical cords snaking out of otherwise gorgeous lighting fixtures throughout the hotel, a 20 minute wait for a pat of butter at breakfast and the massive wooden door to the toilet in my room left off its bottom runner making it impossible to close.  In-room technology—from the TV to the light switches—is also far too complicated.
Beyond addressing all of those issues, Amangiri has other plans for the immediate and long-term future of its latest hotel including construction of 28 ownership villas. The hotel is also in talks with the BLM about obtaining special access to nearby wilderness areas for Amangiri guests and luxury house boating on Lake Powell is on the agenda along with adding a Navajo story teller to host evening get-togethers around an outdoor fireplace off the pool deck. The spa will also be opening a larger watsu pool and a flotation tank later this year.
Rates start at $600
Amangiri
1 Kayenta Road
Canyon Point, Utah. 84741-285
Phone: (435) 675-3999
www.amanresorts.com
Our review of this hotel was originally published by iTraveliShop
Visit our Travel Features page and our Hotel & Restaurant Reviews page to see all of our freelance travel stories.