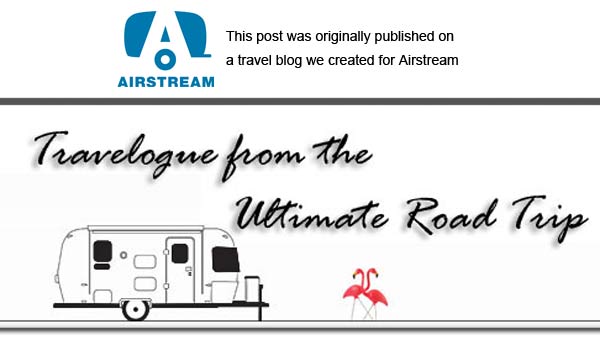 The chunk of land where New Mexico and Utah rub up against each other has to have the highest concentration of national parks, monuments, and natural sites of anyplace in the United States and the best way to get around to all of them is, obviously, with your home in tow.
We began our beautiful places buffet with a drive through El Malpais National Monument near Grants, New Mexico as a fast-moving summer storm threw lightning bolts around the darkening sky.
It was suitably moody weather for a place whose name literally means badlands in Spanish, inspired by the fact that much of the land here is not land at all, but twisted inhospitable hunks of lava. It often looked like we were driving past one massive parking lot that had its asphalt chewed up by one of those hulking re-paving machines.
From El Malpais we headed for El Moro National Monument near in Ramah, New Mexico, a tiny park famous for a series of inscriptions left by explorers who have stopped at the water source here since the 1500s. There are many truly breathtakingly elegant signatures and messages (some of the handwriting beats what we can do with a pen and paper), sadly, some park visitors think they can do better and during our visit a ranger discovered fresh graffiti that read "Alex + Bree = BFF" (Alex and Bree, if you're reading this, that's so not cool).
In addition to the inscriptions, the park also offers a lovely mile-long walk to the top of a stony mesa and through the remains of an ancient Indian settlement. The views (and the silence) from up there were amazing.
Next? Utah's Monument Valley, an area we've visited many times. We arrived near sunset and found the campground had moved to make way for a nearly-completed new hotel. The new camping area is even better, however, as it sits almost directly under Monument Valley's famous "Mittens" formations and we were able to park our Airstream in a spot with an unobstructed view of the massive rocks.
The next morning we drive to nearby Arches National Park near Moab, Utah where the temperature was nearing 100. After a few (very brief) hikes that were much more enjoyable in the cool fall weather the last time we visited the park, we carried on to nearby Canyonlands National Park, which brought our park count to five in just three days. Not bad.
We've dreamed about staying in the Willow Campground in Canyonlands since our last visit years ago. Like so many parks campgrounds, the 10 sites at Willow fill on a first-come, first-served basis so we made a beeline for it with fingers crossed that there would still be a space for us. Not only did we get a space, but our site had a shady tree.
With our lovely new home secured, we unhitched and headed to a few trailheads to explore the park on foot. As we moved around from lot to lot, we began to realize how many non-RVers park their tiny vehicles in spots clearly meant for oversize rigs. In many lots in Canyonlands we would not have been able to park at all with the Airstream in tow because of inconsiderate drivers like that. We're thinking about printing up "friendly reminder" cards to leave on offending windshields.