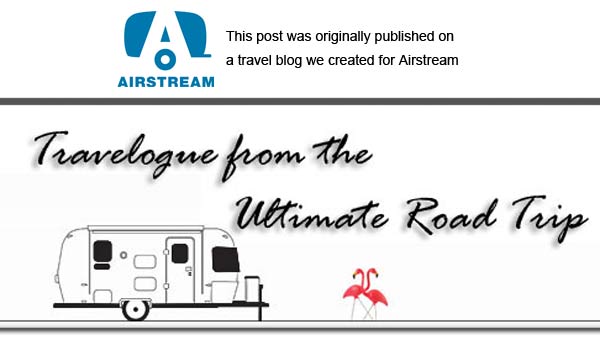 It covers 800,000 acres (32,374 hectares) of Texas and is one of the least visited parks in the US National Park system so, of course, we had to visit Big Bend National Park. It's also one of the few parks that pretty much shutters up in the summer when temperatures can become not just unbearable, but dangerous. So, we figured winter would be a great time to visit.
Well, sort of. The Rio Grande, which runs through the park, crested more than 25 feet (8 meters) above normal two months before we arrived and the flooding left a trail of destruction, debris, and silt behind. More than half the sites in each of the park's two campgrounds were closed. On the other hand, almost half of each campground had been re-opened, and we actually had no problem finding a home for our Airstream in Cottonwood Campground.
As we drove through the park at dusk a family of javelinas, which look like a wild boar crossed with a warthog with a smidge of rhino thrown in, crossed the road in front of us—in no great hurry it should be added. They may be short but they're dense and we gave them the respect (and the brakes) they deserve.
That evening, back in the campground, we heard a group of coyotes calling very near our site. But it wasn't until the next day that we realized that javelinas and coyotes are far outnumbered by the birds in this park. Over coffee we watched a woodpecker with a vivid red splotch on the top of its head and a neon yellow swipe down its neck bedevil a plain-Jane dove that seemed to want to land on a tree that the woodpecker considered its own. Factor in the seemingly never-ending stream of birds of prey and Big Bend is a bird watcher's dream.
Out on one of the roads through the park we slammed on the brakes and pulled over to admire something that more often factors in people's nightmares than their dreams: a tarantula as big as a human hand. The prehistoric looking thing was slowly ambling across the road, and then it headed off into the rocky dusty desert on impossibly fragile looking legs.
The animals that really got us revved up, however, were far bigger and hairier than any tarantula. Park staff and visitors report around 130 mountain lion sightings in Big Bend every year, which is extraordinarily high. Black bears, once common in the park's Chisos Mountains, had disappeared by the mid 1940s when the park was created. However, since the 1980s, black bears have slowly repopulated the park by crossing into Big Bend from neighboring Mexico.
This year the bears are extremely active with many sightings. With all this big predator activity, the park was peppered with tantalizing warning signs about how to behave if confronted with either animal. We'd love to catch a glimpse of another black bear, but a mountain lion sighting would really be special since neither of us has ever seen one in the wild. With that in mind, we headed for the park's back country to hit the trial. At the urging of a fellow camper, we set our sights on the Pine Canyon Trail which is reached via about 10 miles (16 km) of single track dirt road.
A wonderful sampling of the park's diversity, the 4 mile (6.5 km) round trip walk starts off through scrubby classic Chihuahua desert, working almost imperceptibly up Pine Canyon. The terrain quickly got steeper, more narrow, and more forested until we reached trail's end at a rock wall which is the site of a dramatic waterfall whenever it rains.
Though we saw a big fresh pile of bear poop right on the trail (oh, you'd recognize it if you saw it too), we made it all the way back down to our truck without seeing a bear or a mountain lion.
In addition to the extraordinary number of mountain lion sightings and the rare mix of Chihuahua desert and Chisos Mountains and Rio Grande, the other truly unique thing we tok away from Big Bend National Park was a reminder of the randomness of borders. Here in Big Bend, the Rio Grande is the border and we could see Mexico from almost anywhere in the park.
Craftsman from villages and towns on the Mexican side of the river used to be allowed to wade across with goods to sell to Big Bend visitors, and then return to their homes at night. Post 9/11 border crackdowns ended all that and now just a few intrepid souls sneak across the river, set up makeshift craft stands with donations boxes and signs in butchered English, then return to Mexico and hope that someone buys a carved walking stick or scorpion sculpture and puts something in their cash box (though park officials warn that buying these goods is against the law). At night these stealthy shopkeepers return to collect their unsold goods and any revenue.
We've crossed a lot of borders in our time and we hope we'll be lucky enough to cross many more. But somehow it never seems right that a river/wall/line in the sand should be powerful enough to create such a divide.