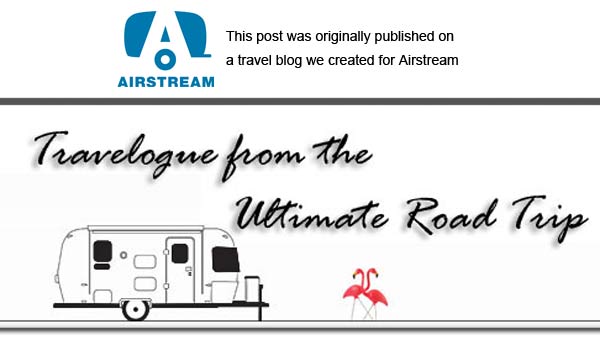 Since moving into our 23' Airstream Safari SE full-time in June we've spent almost 30 nights in KOA campgrounds across the country where we can always count on a convenient hookup, fair to great facilities, an internet connection (some weaker than others, it must be said), and sometimes even free pancakes.
It was dark by the time we pulled into the Las Cruces, New Mexico KOA so we didn't see much of the place until we headed to the showers which were spotlessly clean, had shower curtains that were actually long enough to keep the water from escaping and flooding the floor, and even provided perfectly dry and perfectly clean rag-weave bathmats to stand on as you dried off and dressed.
The next morning, the light of day revealed even more reasons why the Las Cruces KOA won both the KOA President's Award and the KOA Founder's Award in 2008 including a free vehicle and RV/trailer wash station, meticulous site maintenance, and super-friendly staff that will even bake and deliver a pizza to your site for a very reasonable fee.
Then we saw site #12. Located on a huge corner parcel on the edge of the campground, site #12 has an unobstructed view of the Organ Mountains plus a private gazebo with a table and chairs and your own personal gas grill. We were sold, even though the site is $12 more than the standard site we originally reserved, so we moved into our new mansion of a campsite which had room for at least three of our Airstreams. We were just getting settled in and deciding what to grill for dinner when a 32' vintage Airstream bus pulled into a nearby site.
Out jumped Michael and Judy and their adorable dog Rose and before long we were all enjoying cold beverages in our gazebo. Michael and Judy had been full-timing in their Airstream, which they've lovingly named Bess, for a long time and we really related to their attitude toward life on the road. Namely, don't make too much of a schedule (it's just going to change anyway), don't let the idiots get to you, and never, ever make plans with other people if you can avoid it.
Oh, and don't be afraid to snag the best site in the campground. We suspect that as soon as we leave site #12 Michael and Judy will move in!
From Las Cruces we headed for Van Horn, Texas but first we made a mandatory pit stop at the Lucchese cowboy boot outlet in El Paso, Texas where Eric tried on about a gazillion different styles of boots. The place is packed to the rafters with hundreds of styles from subdued classics to flamboyant colors and fancy skins. Eric finally settled on a deliciously soft, dark caramel colored, handmade pair that fit him perfectly—and at a fraction of the cost of regularly priced Lucchese creations.
We're not big shoppers, but we're sure these are boots will prove their worth for years to come just like the boots Karen bought at the Alberta Boot Company in Calgary, Canada almost two years ago, which have become treasured (if slightly scuffed) possessions. Besides, you just can't travel around Texas wearing sneakers.
After a night in the Van Horn, Texas KOA, where the night staff stayed late in order to greet us when we checked in, we began making our way toward Big Bend National Park. Our route took us directly through Marfa, Texas which has become a magnet for artists, nature lovers, and general urban refugees and harmless misfits from all over.
Like so many roads in Texas, the route from Van Horn to Marfa is two lanes of pretty much straight flat pavement with a speed limit of 75 mph, which means we covered the 75 miles (120 km) between Van Horn and Marfa in no time flat—even with a stop at Prada Marfa, an art installation by German artists Michael Elmgreen and Ingar Dragset which opened in 2005 which consists of a petite replica of a Prada store (complete with actual Prada handbags and shoes on shelves inside) plunked down in the middle of nowhere. The doors don't open and it's made of adobe which is meant to disintegrate over time and we don't exactly know why, but the place makes us smile.
The minute we hit Marfa we could see the cool. There's the Thunderbird Hotel (owned by the same folks who run the desert-chic Hotel San Jose in Austin, Texas), where they'll let you borrow an actual vintage turntable so you can play something from their vinyl library right in your room. There's the Pizza Foundation which earns rave reviews from hippies and hipsters alike. And there's Maiya's and the much-hyped Cochineal (opened by two former New York City restaurateurs who used to run Etats-Unis on Manhattan's Upper East Side) where even big-city diners marvel at their meal—and their celebrity co-diners.
To fill in the gaps between meals and star-sightings there are tempting book stores and hardcore coffee shops and cheeky, well-stocked second-hand stores. Not to mention the thing that transformed Marfa from an obscure, half-dead, dustbowl cattle town to the Brooklyn of Texas in the first place: Art.
New York City minimalist Donald Judd (though the vitriolic Judd reportedly preferred the term "empiricist") came to Marfa in the early '70s and soon began taking over massive buildings on an abandoned military base and other properties in and around town and turning them into galleries for his work. He eventually formed the Judd Foundation and opened the Chinati Foundation (named after Marfa's neighboring mountain range) in 1976 and the influx of art-tourists his installations eventually attracted has been largely credited not just with Marfa's survival but with its current boom.
Besides copious quantities of cool, the other thing we noticed about Marfa was an amazing number of Airstreams. We counted six without even trying on just one quick pass through town. Clearly art attracts art.