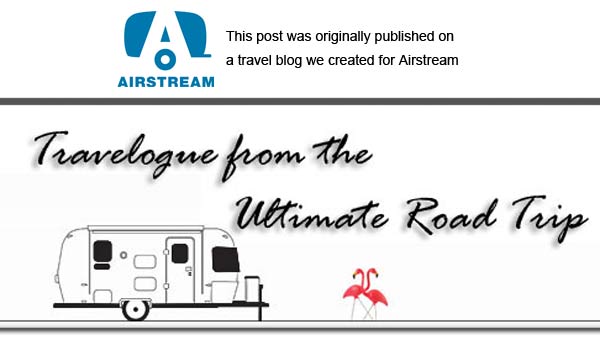 It's an adventure just getting to the Black Rock Desert in Nevada. First, you pass through Gerlach (don't blink), then there's Guru Road just out of town on your left. Jutting off the main paved road, this dirt spur has become, over the years, a kind of impromptu sculpture and philosophy garden.
The road is lined with boulders, stones and rock slabs chiseled with random bits of life advice and odes to beloved locals. Occasionally along the mile plus route, there are larger pieces of more complex sculpture, like an abstract Elvis crafted from stacked rocks and adorned with a cape made by linking together hundreds of beer can bottoms.
One of our favorite sections of Guru Road is an area devoted to the Iron Butt Association, a group of apparently insane long-distance endurance motorcycle riders who do things like travel 11,000 miles (17,700 km) in 11 days, or ride from Canada to Mexico (or vice versa) within 36 hours. Yeah, our kind of people!
As we were walking along the road we were tickled by a persistent playful wind that kept making us feel like there was someone behind us even though there was no one in sight. The utterly dry but surprisingly refreshing wind kept at us as we traveled on to the Black Rock Desert itself which (are you sitting down?) isn't black at all.
A close inspection revealed a sprinkling of small black pebbles on top of the powder-fine, taupe-colored dust but the overall effect was a desert that looks (and feels) like the spongy, pale top of a par-baked biscuit.
It's gorgeous here, but there's not a lot to do so after exploring the desert around us we got down to work. Eric's new Dell computer needed to be set up and Karen always has something she's supposed to be writing (including this blog post), so right in the remote Black Rock Desert we ended up with both computers humming away, thanks to our generator, in one of the most scenic offices we've ever worked in.
Just when we thought we were totally alone, we'd hear the rumble and saw the dust of a vehicle approaching in the distance—usually going at least 100 mph. Once we were even buzzed by a low-flying plane (we think the pilot just wanted a closer look at our Airstream). Still, it's hard to imagine this place packed with the 30,000+ folks who gather here every year for the Burning Man Festival.