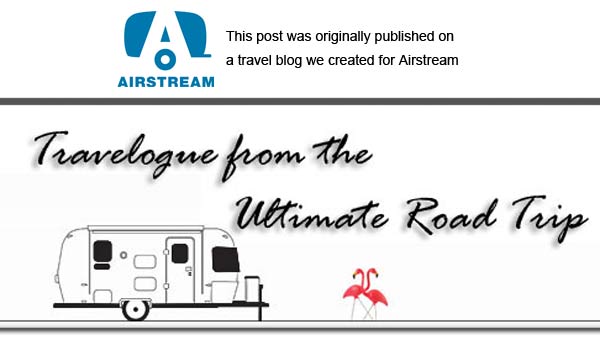 We go to a lot of music festivals and have always camped at them, so we knew that having an Airstream for our fourth year at the annual High Sierra Music Festival would be an upgrade—we just didn't quite realize how much of an upgrade until we got to our site and started setting up all of our toys.
First, we put up the awning (without breaking it this time) and rolled out our green astro-turf lawn before planting a pair of plastic pink flamingos in the dirt. Then we set up our comfy camp chairs, outdoor speakers (so we can listen to the radio simulcast of the festival right from our Airstream), two fully stocked coolers, and our beloved Coleman grill.
The only thing missing? Guests!
When we last had a home, so many months ago, we loved to have our friends over for dinner or just to hang out and we're really looking forward to entertaining Airstream-style at the festival where some of our much-missed friends are in attendance either as part of the audience or as part of bands.
Our friends show up soon enough and that's when the Airstream really becomes hospitality central. In between catching some fantastic bands as varied as Critters Buggin', Govt.' Mule and Dumpstaphunk at one of the easiest, most enjoyable festivals around, we all naturally reconvened at the Airstream to spend time grilling up pork loin dinners, whipping up bowls of homemade guacamole, and sitting in the shade catching up with people we haven't seen in many months. It was heaven.
Even without a water hook up, careful (but not brutal) rationing got us through four days of cooking and hosting with water to spare and everyone who poked around inside our Airstream was amazed at what it can do. We even had our first overnight guest, our dear friend and awesome guitarist (his and is called Wolf! and he also plays in RANA, American Babies, Bustle in Your Hedgerow, Chris Harford's Band of Changes, Joe Russo's Almost Dead and much more), Scott Metzger who was at the festival performing in not one but two bands.
One particularly lazy afternoon we actually watched a DVD with the air conditioning on, but don't tell anyone. Yeah, the Airstream performed like a rock star.