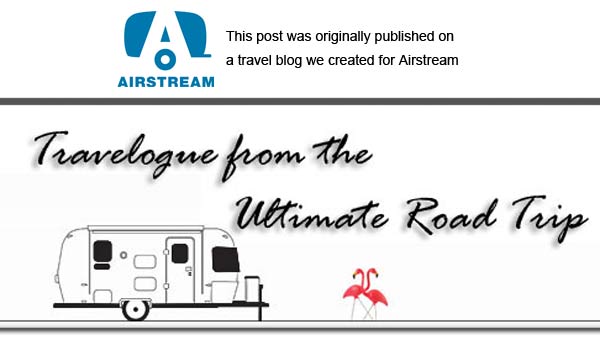 Some things can be right in front of you but they don't become obvious until you get even closer. Things like Crater Lake National Park, for example. The words "crater" and "lake" are right in the name of this park and if you think about it that's pretty dramatic in and of itself. However, when we arrived at the park's Rim Village and looked down into said lake, the full uniqueness of the place finally hit us.
First of all, the lake is waaaaaay down there, deep inside the crater. Then there's the color, a blue so blue that it defines the color every lake should be. It's so blue that it seems like if you scooped up a mouthful of the water it would actually taste blue.
There aren't many opportunities to scoop up any water from Crater Lake, however, as 99% of the park happens way up on the rim of the crater. The only way to get to the lake itself entails a one-mile walk down a wide dusty path, descending 700 feet (200 meters) to the water's edge. Yep. It's just as blue from down there and so clear we can see submerged features like huge rocks dozens of feet down.
You can go SCUBA diving in the lake, which is the seventh deepest in the world, but at just 50 to 60 degrees, even in summer, we decide to be satisfied with our shore and rim views.
Crater Lake is the nation's sixth national park and we make the most of our three days in it with as many hikes as we can cram in. Even in July snow still had some of the trails closed and the Rim Drive itself only opened a few days before we arrived, but we were able to hike to the top of 9,000 foot (2,743 meter) Mount Scott where we should be rewarded with awesome views all around.
Sadly, the state of California was blanketed in smoke from hundreds of wildfires and the smoke was so dense we don't take a single picture. The next morning, however, we peeked out of our Airstream with fingers crossed and the sky did actually look slightly clearer so we quickly hoofed it back up Mount Scott a second time and got some shots.
We know it's sacrilege to many, but because ours is a working road trip we pretty much always need internet access and we really do wish the park system would just install routers in campgrounds across the board (hey, if you're on a non-working road trip just don't log on).
After searching nearly every nook and cranny of Crater Lake National Park, we finally found a turnout along the Rim Drive where we get a Verizon signal and a couple of times each day we park there and call it our office for an hour or so before returning to the trails or heading back to the Airstream to relax. It sure beats any corner office we've ever had.