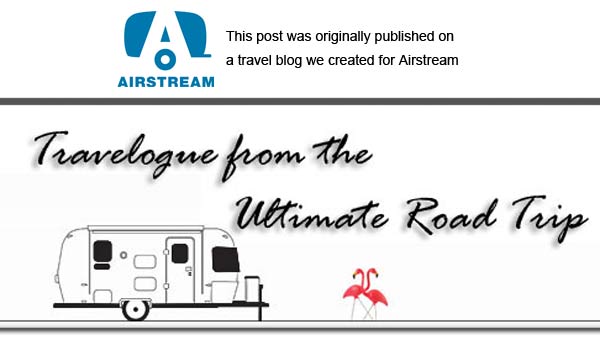 Some towns just have it all—like Page, Arizona which was created out of thin desert to house and feed workers brought into the area to begin building the Glen Canyon Dam in the '50s. Today, the sleepy town is home to about 7,000 people and it makes a great home base for anyone interested in exploring awesome Lake Powell, created when Glen Canyon (and many other side canyons) filled up with water behind the completed Glen Canyon Dam.
Part of the Glen Canyon Recreational Area, Lake Powell is famous as a house boating destination and rightly so since the lake's awesome sculptural sandstone cliffs and hundreds of meandering finger-like side canyons are best explored on the lake's deep (as in many hundreds of feet deep) and crystal clear water from a fully-appointed houseboat that lets you take a hot shower, cook great meals, sleep in comfy beds and even (in some cases) soak in a hot tub and watch a flat panel TV. Yeah, they're nicer than our old apartment in Manhattan ever was.
We did our very first houseboating on Lake Powell which was an amazing experience thanks to expert insider guidance from Steve Ward who grew up in the area as the Glen Canyon Dam was being built and spent his childhood exploring the rivers and canyons of the area before everything was submerged.
Steve's tips got us into a lovely mooring spot and into some gorgeous areas of the vast lake including a great hike up West Canyon. Every arm of this lake seemed to offer something new—unique rock formations or a different tint to the crystal clear water so deep (more than 400 feet / 121 meters in places) that it's kind of freaky swimming in it. The lake even has Rainbow Bridge National Monument, home to the largest natural bridge in the world at 290 feet (88 meters) tall and 270 feet (82 meters) long, which we visited at 7 am one day and had the whole place to ourselves.
Every fall Page focuses on adventures in the air, not on the lake, with the annual Page/Lake Powell Hot Air Balloon Regatta which attracts dozens of balloons plus their pilots and crews.
Hot air ballooning is truly a team sport since no balloon would ever get inflated and airborne (let alone back on the ground safe and sound) without a small posse of wranglers and drivers who handle the balloon and literally chase it from a vehicle on the ground once it's in the air to make sure they're on the spot wherever and whenever the pilot chooses to land.
Before attending the regatta, we'd never been up in a hot air balloon and we were surprised to discover how similar it is to SCUBA diving. Okay, you're not wet or breathing bottled oxygen (hopefully), but the changing buoyancy and slow pace gave us a very similar relaxed feeling (thanks for taking us up Bill and Chris). As pilot Cheryl's t-shirt says: "It's cheaper than therapy."
Hot air ballooning—like most specialized, slightly fringe, certainly expensive, and possibly dangerous activities—tends to attract fascinating fun-loving people (remember: interesting people do interesting things). Everyone we met during the three-day Page/Lake Powell Hot Air Balloon Regatta (hi Bill, Mike, Chris, Travis, Hank, Deb, Frank, Trina, Lee, Jan, Sarah, Bryan, Cheryl, Sean and Gary) were unique characters with great stories, great generosity, and a great desire to have a great time with other great people. We're told that a few jerks sneak into the ranks every once in a while, but they don't last long.
With so many fun-loving people gathered in one place, it was no surprise that once the early morning flights were done, the tailgating begins. And by tailgating we mean full on hot breakfasts of scrambled eggs and ham and unbelievably delicious ginger pancakes cooked fresh on huge grills and served in cut glass dishes (thanks Deb!). Seriously. Did we mention the homemade bloody Mary's, deep-fried turkeys, Jell-O shots, and kegs of beer?
These folks don't fool around when it comes to flying (okay, not much) and they're certainly serious about having a good time. The whole post-flight scene reminded us of the impromptu gatherings and good times we always have when we go to music festivals and that made us happy.
During this visit to Page we did't have a houseboat to retire to each night, but we did have our trusty Airstream Safari SE tucked snugly into site A3 in the Wahweap RV Park which has perfect lake views (book a site in the low numbers on the A loop for best positioning), which we took full advantage of during sunrise and sunset when everything turns pink.
Located right at the lake in the midst of the protected recreation area, the RV park was also home to rabbits, road runners, and coyotes and, in keeping with its natural surroundings, all the buildings have been designed in colors and shapes that marry well with the sandstone terrain. The main office and store is also equipped with solar panels which help power the place. The RV park is noteworthy for a bunch of more basic reasons as well, including super clean facilities, the cheapest and best RV park laundry room we've come across yet ($1 washers and .50 dryers), and a free shuttle to and from Page.