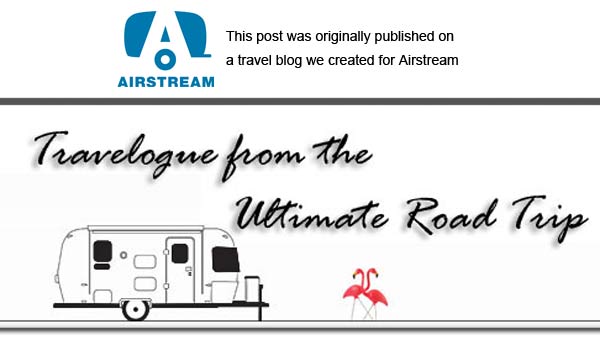 If the North Rim of Grand Canyon National Park is the South Rim's less famous sibling, then the Toroweap area (also called the Tuweep area) of the park, which was designated a UNESCO World Heritage site in 1979, is the long-lost cousin. Whereas the South Rim can get over 15,000 visitors on a busy day, Toroweap rarely sees more than a dozen. In 2004 3,314,226 people visited the South Rim, 306,926 people visited the North Rim, and only 8,066 visited Toroweap.
We didn't know much about the area at all until Dave from the park's North Rim back country office started raving about how amazing it was and how he looks forward to spending half his year in Toroweap despite the isolation and the bad road. Isolation? Bad road? Sign us up!
We left the Airstream happily nestled in its desert home in the Paria Canyon-Vermillion Cliffs Wilderness Area and headed to Toroweap for a day trip. As we turned off the pavement and onto the Sunshine Route to Toroweap Point we were surprised at how good the dirt road was. Heck, for the first 50 miles (80 km) or so it was more than good enough for the Airstream.
However, as we reached the ranger station and the official sign for the Grand Canyon National Park Toroweap area the road took a pronounced turn for the worse with deep ruts, sand pits, and huge rocks that tossed us from side to side and up and down and forward and backward no matter how slow we drove.
The final 6 miles (9 km) were so uniformly bad that it seemed like someone had come in with heavy equipment and intentionally made the road worse.
After many hours of driving (nearly a full hour just to get through the last 6 brutal miles), we finally reached Toroweap Point, a spectacular spot 3,000 feet (915 meters) above the Colorado River right on the rim of the Grand Canyon with views of light-and-color-bathed canyon walls, Lava Falls rapids, and that iconic river snaking lazily along.
With the sun setting and neither of us looking forward to facing that agonizing stretch of road again so soon, we decided to camp for the night in the exquisite primitive campground just in from the rim where 10 sites with tables and fire rings are set along a flat shelf. We settled into site #5 tucked into a gentle bend in the landscape (this is exactly why we always carry full camping gear and plenty of water with us in the truck) and once darkness fell the sky put on a spectacular star show.
The night was so warm that we don't even put the fly on our tent, which allowed us to stargaze until we couldn't keep our eyes open anymore. Did we mention that the campground had the cleanest back country bathrooms we've ever seen?