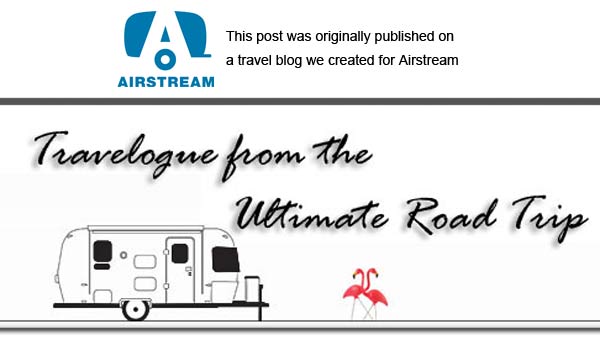 We're sure we're not the first to notice the similarities between houseboating and Airstreaming. The thwump, thwump, thwump of the water pump. The incredibly efficient use of space. The need to tie even the paper towels down sometimes. The way the refrigerator door snaps shut. The ability to go where and when you like (albeit very, very slowly on a houseboat). So when we headed out on a houseboat on Shasta Lake in California it felt familiar.
Out on Shasta Lake we benefited from a local lake expert. Kevin Befford has years of experience on the lake and his passion for it is contagious. Based on Kevin's detailed recommendations, we headed out toward the base of Shasta Dam for a humbling look up at the massive structure.
Then we explored Pitt Arm, a canyon that was never logged before being it was flooded because World War II broke out and all the loggers joined up before they could work the canyon. When lake water levels are low, the submerged forest in Pit Arm is really visible—and eerie.
When the treetops are exposed in Pitt Arm the bald eagles and ospreys love it and we saw a lot of both types of birds. Shasta Lake is home to about 20% of all nesting pairs of bald eagles in California, so it's a great place for bird watching. Then we headed to Squaw Arm where we found a completely secluded beach to anchor on, just like Kevin said we would.
Kevin told us about a trail out to an abandoned mine and mining town in the hills above the lake. With water levels so low, down more than 100 feet (30 meters) and dropping about a foot a day, trailheads have become hard or impossible to see or reach since they are now dozens of feet up the waterline from where a boat can anchor.
So instead of moving our houseboat and hoping to find the trailhead way above us, we decide to bushwhack from our current mooring to the nearby mine site right from where our boat was anchored using our Garmin GPS to get us there. Off we hiked, across steep rocky hillsides and narrow cliff tops and through dense manzanita thickets along deer trails through the forest. Finally, sweaty and scraped, we reached a dirt road which we followed to the abandoned mine site.
After exploring the mine for a while, we decided to follow the road back instead of repeating our bushwhacking adventure (we'd managed to avoid the poison oak so far and we did't want to push our luck). Our hope was that the road might lead us toward where we left our houseboat.
It was a lovely, shady, easy walk as the road wound its way around the hillside. In the elbow of a corner near a creek, both sides of the road were absolutely blanketed in blackberry bushes so laden with berries that the vines were practically bent to the ground. First we start filling our hands and our mouths with the delicious sweet fruit, but soon we chug the last of our water and begin filling our Nalgene bottles with berries.
As if we needed reminding that this is prime bear country (and they love blackberries even more than we do), we soon saw a huge pile of berry-filled bear scat on the side of the road right where we'd been picking. Just to be on the safe side, we raised our voices to make it clear that we were there (a startled bear is more likely to attack than one that's merely pissed off by all the racket we're making) and then we heard it—a sound like bowling ball slowly rolling through the underbrush.
Then we felt a pair of eyes on us from across the creek on the bank to the far right of where we were standing. It was a California black bear watching us with a look on its face that practically accused us of stealing his lunch. A couple of shouts of "hey bear!" and he (she?) headed away from us back into the forest. And, yes, we do feel guilty for stealing berries from a black bear, but wild blackberries are not to be passed up.
Sure enough the road we'd been following practically led us right back to our houseboat door (we didn't need to do all that bushwhacking after all) and the next morning we enjoyed those blackberries for breakfast in the sun on the roof of our houseboat as flocks of migrating geese landed and took off from the calm cove we'd anchored in.
If only Airstream made a Chitty-Chitty-Bang-Bang style amphibious edition…