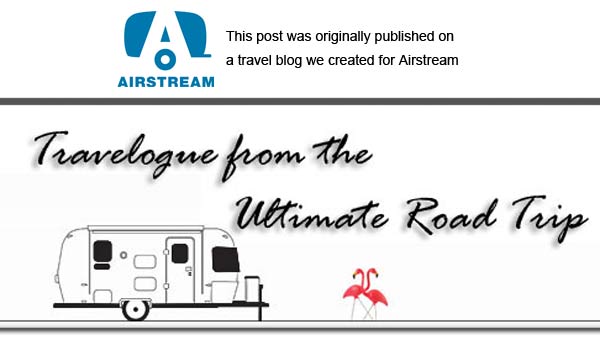 It's official. We hit the road today, with our new Airstream Safari SE in tow, and headed straight for Kasha-Katuwue Tent Rocks National Monument in New Mexico where park officials promptly made us leave our Airstream behind. The problem was that we arrived close to gate closing time and the folks at the entry point didn't think the Airstream would fit through the much smaller after-hours gate they leave open all day and all night.
Reluctantly, we unhitched and drove into the small and too-often overlooked park without the Airstream. There are really only two hiking trails in the park so we decide to do both.
The spectacular Canyon Trail winds through an impressively tight slot canyon up a valley then emerges on the top of a mesa with fantastic views of the park's namesake: totally unique conical rock formations that do actually resemble tents (or Cappadochia if you've ever been to Turkey). They're odd enough in and of themselves, but what's weirder is that they only seem to happen in a tiny section of this one park.
On our way back down the trail through the slot canyon it started to shower a bit and rain is the LAST thing you want in a slot canyon as they are prone to flash floods leaving hikers with no way to escape the water inside the sheer rock walls of a slot canyon. Every year hikers drown in slot canyon flash floods and we definitely started walking faster as the rain increased (since you're reading this now, we obviously made it out alive).
Exhilarated (and dusty and sweaty), we headed out of the park to reunite with our cruelly abandoned Airstream. To our delight, we even remembered how to properly hook her back up to our truck.
With darkness falling, we drove to nearby Cochiti Lake National Recreation Area and chose a bluff-top site for the night. We won't lie—backing the Airstream into the spot took a few tries (it may be a long time before we master the art of going backward), but we got her in just as the wind really picked up—but what do we care if it blows? We don't have to put up a tent! Even better? We get to take a hot shower to get the desert grit off.