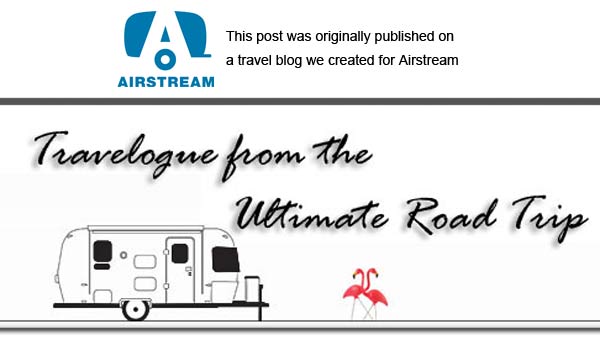 Natural Bridges National Monument is a compact, focused park created to showcase just three stellar examples of bridges formed by naturally eroded rock. All of the park's geological wonders are easily reached via hiking trails off a short scenic drive. Even with a lovely pit stop to make a sandwich in the Airstream we were able to walk to all three bridges and enjoy all of the overlooks in just a few hours.

After checking out the natural bridges we were off to Moab National Park. On the way we did something we've never done during all of our visits to the area: we stopped and took a tour of the Hole 'n The Rock roadside attraction. Sure, from the outside it looks like just another cheesy roadside rip-off complete with a lame petting zoo and an overpriced gift shop (which is exactly why we've always driven right past it). But this time we stopped and ponied up the $5 each for a tour of the main attraction, a 5,000 square foot multi-room home with electricity and plumbing (not to mention some very, um, unique décor—more on that later) blasted, carved and coaxed out of sheer rock.
The tour started in the kitchen, a cheerily painted room that was the first area built in order to serve guests at what was originally a roadhouse restaurant. Apart from the French fryer carved into solid stone and the cabinets that have been rounded to fit into the curved rock walls, the kitchen didn't seem that unusual.
Then you enter the home's other 13 rooms. There's the bathtub carved out of solid rock and the 65 foot (19 meter) chimney blasted through solid stone. Not to mention huge solid-stone pillars throughout. All told 50,000 cubic feet of sandstone was removed to create the Hole 'n The Rock as it was expanded into a full-fledged home and art studio.
However, the thing that really makes this place unique is the way the creators, Gladys and Albert Christensen, decorated their cave home. An avid painter and sculptor, Albert's work is everywhere—much of it focused on his hero Franklin D. Roosevelt. His other passion, taxidermy, is also represented in the form of the sorriest looking re-animations of various dearly departed pets, including the donkey who did most of the heavy lifting during construction of Hole 'n The Rock and a sort of ethereal floating foal that's more creepy than cute.
Fittingly, Gladys and Albert are buried in a rocky plot next door to their labor of love. We can't be sure that the 15 years it took Albert and Gladys to construct and decorate this boondoggle was time well spent, but we're glad we stopped by for a little while.
We're also glad we stopped by the Star Casino in Santa Ana, New Mexico the next day. We've made it a habit to stop at casinos and take advantage of any free play they offer new club members. Usually it's five bucks or so and we can almost always make a few dollars in a few minutes.
When we pulled into the Star Casino, however, they were offering an additional bonus to first-time club members. All we had to do is show our drivers' licenses, then log onto their website and use a code to play an online game that determined what our additional bonus would be. In the end, we got $70 in free play which we quickly parlay into almost $50 of pure profit. Now that's time well spent!