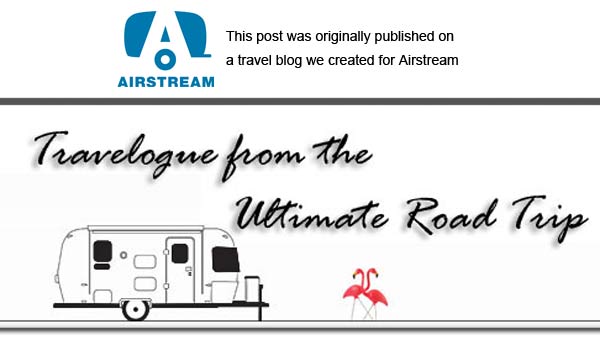 We admit that we felt compelled to travel south down the Pacific coast of the US in a bit of a hurry since we're on our way to visit Karen's parents in California, but that doesn't mean we let much escape us. Here, a must-do list Pacific coastal primer (from north to south) even if you've only got a few days to get from Astoria, Oregon to Eureka, California.
1.  Eat at Mo's
It wasn't even lunchtime yet, but we stopped at Mo's Seafood in Cannon Beach, Oregon and got a cup of their "World Famous Clam Chowder" to share on the beach as we looked out at Haystack Rock (which is a rock which is, pretty much, shaped like a haystack). It must be said, however, that we were skeptical (of the chowder, not the rock). How can a world-class chowder hail from anywhere but the east coast? Still, we figured if it's good enough for Bobby Kennedy, who allegedly hauled gallons of the stuff onto his plane after a campaign stop here, it's good enough for us.
It's also good enough for you. This chowder is awesome—not too thick (it's made with milk, not cream), full of clams (not potato filler) and simply delicious.
2.  Sip a microbrew on the beach
We stopped in Pacific City, Oregon anxious for a look at the famous fleet of Dory boats, a unique flat-bottomed contraption that's brought ashore by launching it out of the water and landing high up onto the sand. Dramatic, to say the least. Sadly, there wasn't a Dory boat to be seen when we arrived at the water's edge.
but we did see a likely looking brewpub called the Pelican Pub & Brewery so we drowned our disappointment in a couple of very fine pints. As we sipped, it occured to us that this is the first brewpub we've ever been to (and there have been many, folks) that's actually on a beach. It's a nice combination that should happen more often.
3.  Buy a lighthouse
Lighthouses can all start to blend together after a while: desolate wind-swept location, steep, narrow, windy stairs, white paint, big bright light. But the Cape Blanco Lighthouse north of Florence, Oregon stands out for a couple of reasons.
First of all, it appears to be pretty much run by a bunch of passionate and knowledgeable volunteers who give a darn good tour. Second, most of the tour takes place right in the lens room about a foot away from the actual original Fresnel lens and it was very cool to see a working lens so close. Then there's the view which is jaw-dropping, even among lighthouses which tend to have pretty spectacular views, that being a big part of their job.
Anyway, we can only imagine how cool it must be in the lighthouse during the annual whale migration. While we were wondering that, our tour guide explained that the Bureau of Land Management is planning to relinquish responsibility for running the lighthouses and Cape Blanco Lighthouse will soon be put up for sale for a song. Anyone can buy it, and turn it into a house or a B&B or a restaurant or whatever as long as you continue to maintain and operate the light since sailors of all sorts still rely on lighthouses, even in this age of the GPS. As our tour guide pointed out, technology needs to be recalibrated. Lighthouses don't move.
4.  KOA in the woods
As advertised, the Bandon/Port Orford KOA, a President's Award winner in 2007, is incredibly wooded—so wooded, in fact, that it almost feels like pulling into a state or national park campground (okay, except for the laundry room and the hot tub…) We parked our Airstream in cozy site D7 and even though there were other RVs on either side of us we were insulated with a buffer of such thick trees that we never saw or heard our neighbors.
5.  Help the California State Park System
We weren't planning to spend much time in Jedediah Smith Redwood State Park since, by all accounts, the forest of old-growth redwoods is too thick for many trails so there's not much here but a campground and a drive through the trees which we figured we'd get enough of in Redwood National and State Parks further south.
But we pulled into the campground at the park, which was inscribed as a World Heritage site along with other redwood parks, just to see what it was like—and we never left. The sites are in the middle of groves of coastal redwoods and the site we choose, #3, provided a snug curved pull through with giants on both sides that seem to hug our Airstream. We simply couldn't resist.
Plus, it felt good to pump a bit of cash into the struggling California State Park System which has been the target of shut-down threats from Governor Schwarzenegger as he looks to close parks as a way to overcome a state budget shortfall. Our $20 camping fee covered entry into any state park in the region for 24 hours, so it's a bargain to boot. But it's the chance to literally camp beneath the redwoods that clinches the deal.
6. Gawk at The Redwoods
We know it's not grammatically correct, but we feel compelled to call them The Redwoods as a kind of ode to the stature and impact of these most impressive trees. Anything that grows to be nearly 400 feet (120 meters) tall and lives to more than 2,000 years old deserves a little nod, don't you think?
Before packing up our Airstream after a lovely night in site #3 in the Jedediah Smith Redwood State Park campground, we drove the Howland Hill Scenic Drive. We were disappointed that we have to leave the Airstream behind, but this 5 mile (8 km) gravel road is too narrow and curvy for trailers of any kind and there truly were a couple of narrow S-bends that would have been an alarmingly tight squeeze with the Airstream in tow.
It's an awesome drive with The Redwoods so close you feel like you could roll down the window and reach out and touch them. However, unless you have an enormous sunroof, driving through The Redwoods always feels like half a perspective since you can really only appreciate the base and lower trunk. To get the full effect, we returned to the campground and walked across a footbridge over the Smith River (the only major river in the state that hasn't been dammed) and wandered along the 1 mile (1.5 km) long Stout Grove loop trail.
Here we got the full effect of The Redwoods as we craned our necks and try to see the tippy top of the massive old growth giants all around us.