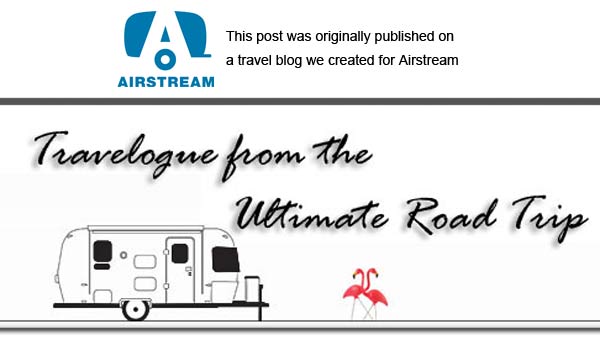 A few weeks ago we made a silly mistake that resulted in a pretty serious hole in the window shield on the front of our Safari SE. Well, hole no more! Thanks to the team at Airstream (thanks Jim) and the team at Sky River RV in Paso Robles, California (thanks Jana) we now have a new rock guard panel in place. It's already a bit muddy, but that's the way it should be.
At Sky River RV we also get the chance to walk through their huge inventory of Airstreams. They even have a SkyDeck—the big motorhome/party mobile with the roof deck that has bench seats and umbrellas and everything. It's always so fun to see what's inside other silver packages because it always makes us appreciate the smartest things about our model and covet smart things we see in other models.
But it's not all business. Paso Robles is a fantastic grape growing and wine producing region and while we were in town we discovered a new label to love and confirmed our love for an old favorite.
First, the newbie (to us, anyway): The Tolo Cellars tasting room is in a wonderfully restored 1880s farmhouse with exposed beams and the original (and working) old gas stove in the kitchen. Jennifer pours us tastes of their wonderful wines, descriptions of which are both clever and clear. For example, Tolo's 2001 Asini is described as "Slap your well-hewn leather with a licorice rope! Bear with us: This wine evokes hints of licorice drops on a plate of rich cherry and blood-red rose petals." We describe it as delicious.
Even better? As we talked and sipped it's revealed that Jennifer lived and traveled in an Airstream full time for a few years. Cheers to that!
Our long-standing and all-time favorite winery in Paso Robles, however, remains Fratelli Perata Winery, where Carol and Gene and team farm 31 acres of vines and produce loudmouthed, personality-filled wines (we have a prized bottle of their Tre Sorelle red blend with us right now). Full disclosure: Karen's dad used to help bottle, label, top barrels, organize the wine library, build owl houses, and do whatever else needed doing round the winery, but the wine was great even before he started pitching in.
Sadly, we are in Paso a few weeks too late for Fratelli Perata's annual dinner for its growing number of devoted wine club members—an event that features food, food, and more food all served with free-flowing and perfectly paired Fratelli Perata wines. Have we made you thirsty? Good. But you'll have to visit the winery or join the wine club to quench that thirst since it's practically impossible to find a bottle of Fratelli Perata any other way.
While in Paso we also carved out time for a visit to nearby Pinnacles National Park which has some fantastic rock formations (hence the name) and a population of endangered California condors. A ranger helped us spot three of the huge and, honestly, fairly ugly and menacing scavengers (picture a vulture, then double its size) perched in a tree on the hillside above the ranger station.
Anxious to see some more of these huge birds, we headed out on the 5.5 mile (9 km) round trip Condor Valley/High Peaks Loop trail. It was a blazing hot day and we dragged ourselves up the first section to the highest point on the route which delivered us into the pinnacles themselves where the trail negotiates its way over enormous rocks via a series of steep and narrow stairs which pass under low rock overhangs and up inclines so steep that the park put in handrails.
It's a unique trail through even more unique terrain (there's even a short tunnel through a huge rock), but we didn't see a single condor. Next time.