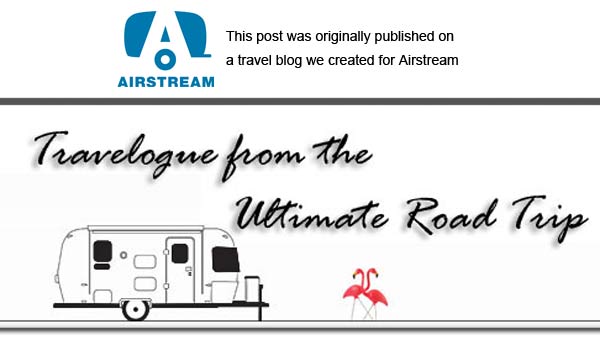 We're just going to say it: the giant redwoods are much more breathtaking and accessible in Sequoia National Park than they are Yosemite National Park, its much more well-known neighbor.
Yes, Mariposa Grove is lovely in Yosemite. However, the walk to General Sherman tree–the largest known tree in the world at almost 275 feet (83 meters) tall and more than 100 feet (30 meters) around–and on to the Congress Trail takes you past stands of massive trees with names like The Senate and The House, one after the other. The redwoods are so thick here that even though it was raining as we walked, we stayed reasonably dry just by moving from dry patch to dry patch under the umbrella-like cover of the dense redwood forest. In fact, this Giant Grove area of the park is home to five of the top 10 biggest known sequoias in the world.
You can even drive through a redwood in Sequoia National Park and even in our big truck we manage to squeeze through Tunnel Log (sadly, the Airstream was too big).
For a different perspective on the park, we climbed to the top of Moro Rock via a steep quarter-mile staircase that ascended more than 300 feet (90 meters) up to the top of the granite monolith for views out over the western half of Sequoia National Park and the Great Western Divide which divides the watersheds of the Kaweah River to the west and the Kern River to the east.
We also saw five black bears during a single day in Sequoia National Park, including a mother and cub which is something we've only seen once before. Not to mention the fact that Sequoia National Park has one of the best National Park signs ever.
Not that we're ever going to stop going to Yosemite. In fact, we're headed there next.