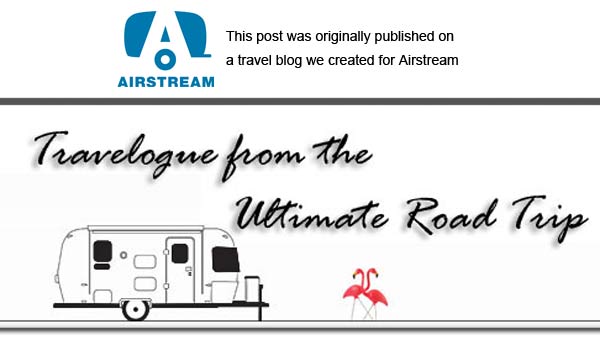 We love life on the road, but we could totally live in Portland, Oregon. It's gorgeous, outdoorsy, full of great culture and live music, and even has fantastic coffee which we enjoyed at Stumptown Coffee Roasters adjacent to the lobby of the ultra-hip (in a good way) Ace Hotel (thanks for the tip, Miss J).
The place also has the best farmer's market we've ever seen—it was like having a meal just walking through it. The bounty almost made us sorry that we were staying in the Hotel Deluxe, a Golden Age of Hollywood (think Kate Hepburn, not Kate Hudson) inspired luxury boutique hotel, instead of in our Airstream where we could go nuts and (over) stock the kitchen.
We couldn't resist the peaches (juice down to your elbow) and a great crusty loaf of freshly baked bread and we turned those purchases into a light breakfast for the next few days—and we required a light breakfast with all the great food we were indulging in during the rest of the day.
So many compelling new restaurants have opened in Portland, on top of all the great ones that already flourish in this foodie town. We can now personally vouch for DOC (24 seats of inventive Italian bliss), belly (pleasingly heavy on the pig) and a place called 50 Plates that offers up regional favorites from across the country (Cincinnati Style Chili, Buffalo Tamale Pie, Hot Brown from Louisville to name a few). 50 Plates even had an absolutely delicious cocktail called The Road Trip and we may have had more than one of them…
We were in town during a visit by our friend Justin who's originally from Portland and we meet up with him one night to go see the Robert Walter Trio featuring Johnny Vidacovich, one of our favorite drummers, for a show at a club called the Doug Fir Lounge. In addition to a very comfortable little music venue, the Doug Fir runs an adjacent motel with a retro look but thoroughly modern attitude including a tremendously forward-thinking policy of discounted rates for check-ins after midnight.
While in town, we also got hooked up with access to the Columbia Sportswear employee store where we stocked up smartly, exercising Herculean self-control in the face of shockingly good prices on gear from one of our favorite brands.
Not even an unusual heat wave, which made Portland feel every bit as sticky and sweltering as August in Manhattan (our hometown), could cool our enthusiasm for the place. But none of our Portland fun would have been possible without Mike Rogers, Oregon Unit President of the Wally Byam Club 5452 who responded to our anxious post on Air Forums asking if anyone had any suggestions about a safe place to leave our Safari for a few nights while we ventured into Portland.
Within minutes of posting, Mike had offered us the covered concrete Airstream pad at his home just a few miles outside the city. He'd be taking his Airstream (a 25' Safari with a gorgeous wooden table which this wood shop teacher made himself), out for a week of family fun leaving the pad available to us. We can't thank him enough.
When we (reluctantly) left Portland, we headed for Mount St. Helens National Volcanic Monument. We've seen pictures of the place, both before and after the catastrophic eruption of May 1980, but nothing prepared us for the reality. A dramatic, sound effects-filled film shown in the Johnston Ridge Observatory Visitor Center (just 6 miles / 9 km from the crater) informed us that smoke and gas from the eruption shot 80,000 feet (24,384 meters) into the air within 15 minutes and debris, including huge rocks, that spewed out of the crater created a massive landslide that traveled at 70-150 mph (112-240 kmph) and had enough force to twist and snap giant trees for more than 10 miles (16 km) in its path.
Yeah, it felt like not-the-smartest-thing-we've-ever-done to be standing there gawking at the still-active volcano's base.