Tuna is a complicated word in Mexico. On the one hand, tuna is the Spanish word for a delicious cactus fruit. On the other hand, Tuna is also the name of the newest restaurant from Chef Richard Sandoval where the food is all about fish (and fusion), not fruit.
Opened in September in the Polanco neighborhood (the Beverly Hills/5th Avenue of Mexico City), the concept behind Tuna is to bring together elements of Asian cooking with elements of Mexican cooking. A particularly successful example of this unlikely culinary combination is the restaurant's Chinese tacos al pastor. This dish takes the traditional Mexican ingredients for this ubiquitous type of taco (pork, pineapple, pickled onion, cilantro and pickled chilies) and ditches the tortilla in favor of a "shell" that has the color, taste and consistency of an Asian steamed pork bun (90 pesos or about US$7). ­
Black cod marinated in miso and served with pico de gallo was also delicious (195 pesos or about US$16), especially with a little something off the restaurant's lengthy specialty cocktail menu. Don't miss the refreshing (and pleasingly not sweet) Margarita de Pepino Toreada, which takes a traditional margarita and punches it up with fresh cucumber, Serrano chile and a splash of smoky mezcal (75 pesos or about US$6). It's the best gourmet cocktail I've had in a long time.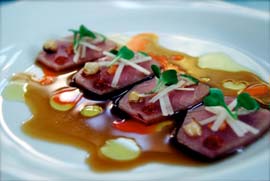 Tuna is the latest restaurant rolled out under the watchful eye of Chef Sandoval, who was born in Mexico City. Chef Sandoval has made a name for himself with restaurants around the world including Maya in New York City and Dubai, Zengo in Denver, DC, Santa Monica and New York, Pámpano in NY and Qatar, Isla in Las Vegas, La Sandía in Denver, Santa Monica and Virginia and Masa 14 in Washington DC. Most recently Chef Sandoval unveiled Lonchería Olivia and Brasserie La Moderna in the newly-opened and instantly hip Brick Hotel.
Tuna, which was opened in partnership with Mexican tenor Placido Domingo, has re-created a space which was formerly home to one of Chef Martha Ortiz's restaurants (she's now shifted her celebrated skills to Dulce Patria which just opened in the mind-bogglingly perfect Las Alcobas hotel down the street from Tuna).
Tuna is chicly homey with wonderfully creative use of strips of vintage-y wallpaper that might inspire you to put some paper up in your own house. The restaurant's intimate open air rooftop lounge is the perfect spot for one of those great signature cucumber margaritas as you re-fuel during a shopping trip through the dozens of designer stores in the elegant Polanco neighborhood. It's also a great spot for a light lunch (Tuna's menu offers dozens of shareable sushi, ceviche, dim sum and temaki options) or a pre or post-dinner drink.
Our review of this restaurant was originally published by iTraveliShop
Visit our Travel Features page and our Hotel & Restaurant Reviews page to see all of our freelance travel stories.