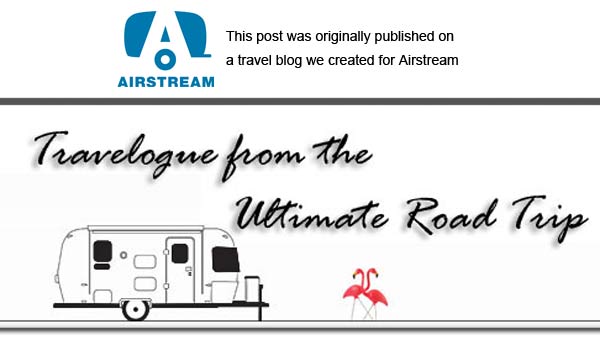 From our canyon rim boondock campsite in Locust Point in the Kaibab National Forest in Arizona, we headed to the equally evocatively named Vermillion Cliffs National Monument in Utah, then through a town called Cliff Dwellings which made us think Native Americans must have settled here. When we pulled off the road amidst an eerie flotsam of bulbous rocks perched atop way-too-flimsy looking pillars of earth, which give the appearance of geological toadstools, we did, indeed, see Native Americans.
However, they've inherited this place and now use it as a roadside vending stand. The original inhabitant of Cliff Dwellings was a woman named Blanche who started building rooms and then whole homes amidst the rock jumble in the 1920s after her car broke down pretty much where we parked our Safari SE. Yes, wacky.
The next day we continued our extraordinary streak of good luck, obtaining last-minute permits by scoring a green light to hike into North Coyote Buttes, aka The Wave in Paria Canyon-Vermillion Cliffs Wilderness Area. The swirling, sloping walls of tangerine, pale pink, and taupe colored Navajo sandstone became so popular after being featured in European movies that the Bureau of Land Management (BLM), which administers the area, has had to institute a complicated lottery system to dole out the 10 permits given each morning for access to the area on the following day (you can also reserve one of 10 slots per day in advance, but we never work that far ahead).
We set aside three mornings to attempt to get a permit (some days hundreds of people show up for the 10 slots), never dreaming we'd score a permit on our first time out. Wit hour permit for The Wave secured, we had plenty of free time to explore other less famous spots in the area which BLM staff made clear are just as spectacular as The Wave.
But first, we had to find a home, so we drove a few miles out a dirt road into the Paria Canyon-Vermillion Cliffs Wilderness Area and parked the Airstream in a flat, clear turn around off the road. Voila! Then we headed to Wire Pass/Buckskin Gulch for a taste of this amazing landscape.
When we hear the word "pass" we think of high mountain peaks that require long uphill slogs before reaching the "pass" onto the other side of a mountain range. In this part of the world, however, passes through rocky obstacles happen in the opposite way—way down low on the ground where water has worn away slot canyons which are used to "pass" through.
The resulting slot canyons, like Wire Pass and Buckskin Gulch, are narrow, high-walled and sinewy. In some places light never reaches the bottom of the canyon and the walls are so close together that you have to turn sideways to pass through. Many areas of the canyon floor are strewn with big boulders washed into the slots during sometimes deadly flash floods.
The most hardcore slot canyons require scaling mountains of these boulders and fording deep, dark, cold areas of collected water. However, Wire Pass and Buckskin Gulch are easy ambles once you're over a few tricky boulders early on. There was very little standing water and what was there could be easily skirted. The biggest hazards were pockets of saturated mud the consistency of chocolate pudding that would probably suck the boots right off your feet if you got in too deep.
Then there were the rattlesnakes.
No big deal. We've seen them before. But the one we came across in Buckskin Gulch was in a narrow place with sheer canyon walls on either side that prevented us from giving the venomous snake a wide berth as we passed. No matter how we cut it, in order to move further into the canyon we'd have to walk by the snake within striking distance.
Despite the fact that the poor snake looked more than half dead from the cold and from the trauma of however he managed to fall or get dropped into the frigid slot canyon, risking a rattlesnake bite seemed foolhardy so we turned around as the snake tossed us one last half-hearted flick of his sad little tongue.
The next morning we grabbed our coveted hiking passed and head for The Wave which involved a fair amount of climbing up and over rounded shoulders of rust-colored sandstone formations which is generally a pleasure since sandstone is so grippy and easy to walk on. What wasn't so easy to walk on were the long stretches of sand. Since both sandstone and loose sand are hard to construct a trail through, the route was marked only by the occasional karin.
We reached the mouth of The Wave formation just as the sun was getting high enough to really show off the color bands in its hot-pulled-taffy shapes that were formed by wind blowing the sandstone particles into the form of an enormous wave. It was lovely and hypnotic and seemed to change before our eyes.
After sitting on the edge of a big sandstone bowl above the main Wave formation for a while we explored the rocks around The Wave. Weirdly, they were all pretty much just normal sandstone—except for a formation another hiker called The Hamburger. From one side it just looked like another lumpy sandstone ball. From the other side, however, it had been eroded in a way that made it look exactly like a big sloppy burger on a bun complete with tomato and lettuce.
We were very grateful that we were able to get to The Wave, but as we left the Paria Canyon-Vermillion Cliffs Wilderness Area we have to think the local BLM staff members were right. There are definitely other stars in the area besides The Wave.