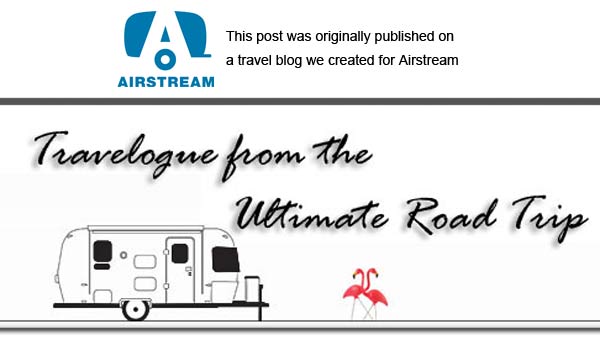 Many of you have met Grady, our beloved canine companion. However, since moving into our Airstream Safari SE full time back in June we've had another official inanimate mascot: a pair of pink plastic flamingos that have decorated our "front lawn" in many places around the US. This helps explain why, as we pulled into Las Vegas, Nevada, we couldn't resist the enormous neon flamingos that beckoned to us in front of the Flamingo Hotel & Casino.
Now, we've been full-timing in our Airstream for more than four months which has allowed us to happily drive right past hundreds of motels and hotels, but we quickly make an exception and settled into one of The Flamingo's recently renovated GO rooms after tucking our Airstream safely into the hotel's convenient over-size lot.
"We own the pink!" is the slightly racy new motto of The Flamingo and the GO rooms make good on that promise with funky, modern, minimalist décor that uses strategic touches of pink along with brown and white and cream and tan making the overall effect not unlike being inside a giant box of Good N' Plenty (in a nice way).
Even nicer is the long and roomy desk (plenty of room for both of us to work on our computers), an empty refrigerator (we figure GO rooms have to be the only rooms in Las Vegas that don't force an overpriced mini bar on you), a sexy/chic quilted white patent leather headboard, a huge fan over the bed, a small TV in the bathroom and an enormous flat screen in the main room.
The hotel even has a very small flock of live flamingos in an outdoor landscaped courtyard.
From Las Vegas, we head for the intimidating-sounding Valley of Fire State Park, just 55 miles (88 km) northeast of the strip—but a world away.
The park certainly has no flamingos, but it does have some seriously red rock formations, hence the name. It also has two campgrounds, though we highly recommend Arch Rock Campground over it's counterpart since Arch Rock is more secluded and features much more dramatic terrain than its counterpart–perfect, as long as you can live without a hookup (there is a free dump station nearby).
For $14 a night, Arch Rock Campground lets us park our Airstream right among the namesake rocks with a level site, a fire ring, and a lovely covered picnic table. It was so nice we stayed an extra night and even put our flamingos out.