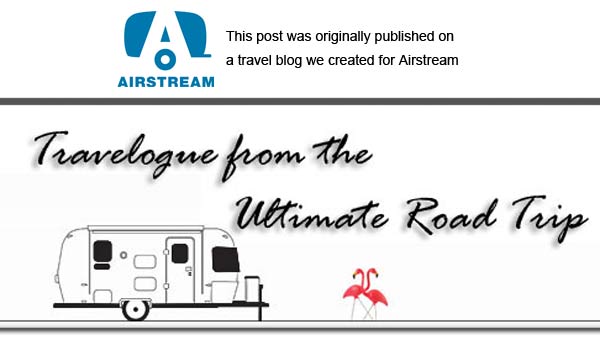 We've all been there. That perfect back country spot—away from everyone and everything—where you can park your Airstream in peace and quiet with all the comforts of home even without a hookup or a city water connection or an RV park. Since we got our Safari SE back in June we've done plenty of boondocking like that (the Black Rock Desert, Bonneville Salt Flats, etc), however, The Alabama Hills outside Lone Pine, California, offered something unique.
Yes, there's peace and quiet and solitude and privacy and the right price (free) and amazing scenery including rounded red rocks and arches that make us think of Utah, not California. You even get peek-a-boo views of the cloud-shrouded jagged peak of Mt. Whitney, the highest peak in the lower 48 states, towering above.
But on top of all that, The Alabama Hills, administered by the BLM, also offers Gene Autry and Randolph Scott—or at least their ghosts. That's because this small area was used as the set for hundreds of Westerns including The Lone Ranger, How the West was Won, Rawhide and Gunga Din and we arrived just as the annual Lone Pine Film Festival was beginning.
Every year during the festival, organizers go out into the Alabama Hills and place temporary placards in front of various locations, showing specific rocks and gulleys as they appeared in a famous movie still. We're not even big Western fans, but we were fascinated right along with the busloads of festival goers who were wandering around in the wind. What they made of our Airstream parked beyond the fray is anyone's guess. Maybe they thought it was a movie star's trailer…